Climate Change: Human versus Natural Causes
Is the earth warming this rapidly on its own?
May 7
- Human effects on climate added to natural effects have raised temperatures significantly higher than would have occurred with natural effects alone. The May, 2014 National Climate Assessment indicates that around 1980 a clear pattern emerged that showed the planet was warming due to activities of people. These included burning fossil fuel and destroying natural systems that captured carbon.
The differential gradually widened, and by 2000 the models estimated that the earth's atmosphere was more than 1 degree Fahrenheit hotter than it would have been if society had no influence.
The models show a major human influence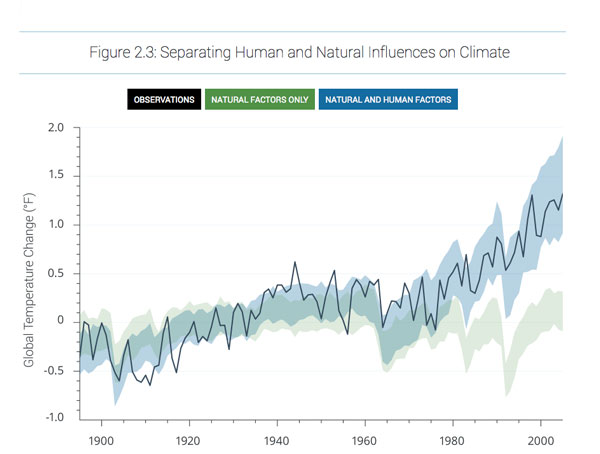 Citing the work of Markus Huber and Reto Knutti (Nature Geoscience, June 2011), the assessment produced an interactive graphic (from which the image above is adapted) to show that temperature on the planet would have been relatively stable over the last century if basic geophysical effects had been the only driving force of climate. These forces include volcanoes (which spew greenhouse gases into the air) sunspot cycles (which vary the intensity of solar energy reaching earth) and El Nino periods (which effect climate and weather over large portions of the earth because of thermal changes in the Pacific Ocean).
Read more about human causes of climate change.

---
Climate Change - Stories, Links and Resources
News from our recommended reading list
about Climate Change
Climate Change
Global Resources News stories
Tweaking Climate to Cool It Gets Serious Look from Scientists, Lawmakers
Climate Change: Human versus Natural Causes
Aftermath of Sandy Hits East Coast
Extreme Weather Takes Toll on Crops, Society
Food Prices Rise as Drought Persists
House Proposes Cuts to Environmental Programs
Cancun Reaffirms Much, AdvancesSome Points
Hansen Calls for Carbon Fee Rebated to Public
UN Climate Panel Must Obey Its Own Rules, Report Says, Calling for New Leadership Structure
Senate Holds Hearing on Ocean Acidification
Tweaking the Climate to Cool It Gets Serious Look from Scientists, Lawmakers
E-Cars' Impact Assessed In Hundreds of Billions of Dollars
Solar-Powered Water Purifier Can Clean 6,500 Gallons a Day
Climate Legislation Uncertain in Congress
Physicians for Social Responsibility Report Details Coal's Health Impacts
Climate Change: Human versus Natural Causes
Externalities and Hidden Costs of Economic Activity
Climate Legislation Uncertain in Congress
Renewable Energy Technology 2010 Conference
Report Details Coal's Health Impacts
Links for the search term: Climate Change
Climate Change and Conflict in West African Cities: Early Warning Signs in Lagos and Accra

Cross-sector analysis of the impacts of climate change
Abstracts of presenters at the May 2013 International Conference on Climate Change Effects in Postsdam.
Talks:
Risk of ecosystem shift under climate change, a multi-model analysis, Lila Warszawski, Germany
Assessing simulations of climate change impacts on terrestrial ecosystems, Tim Rademacher, UK
Statistical evaluation of uncertainties in future projection of global soil carbon dynamics relevant to sensitivities of global temperature and precipitation changes, Kazuya Nishina, Japan
Impact of future sea-level rise on global risk of coastal floods, Jochen Hinkel, Germany
Multi-model assessment of water scarcity under climate change, Jacob Schewe, Germany
Climate change and malaria: intercomparison of global malaria models, Sari Kovats, UK
Assessing agricultural risks of climate change in the 21st century in a global gridded crop model intercomparison, Cynthia Rosenzweig, USA
Crop responses to elevated CO2 concentration: How certain are we?, Delphine Deryng, UK
Comparing projections of future changes in runoff and water resources from hydrological and ecosystem models in ISI-MIP, Pete Falloon, UK
A global multi-model perspective on the potential and limitations of irrigation for climate change adaptation, Joshua Elliott, USA
Leaving the world as we know it: Hotspots of global climate change impacts, Franziska Piontek, Germany
Impact cascades of climate change, Katja Frieler, Germany
Overseas Development Institute database of private climate investments
Devex article links to a spreadsheet of 76 investments totaling $8.5 billion.
Climate-warming gas in atmosphere passes 400ppm milestone – interactive
Benchmark monitoring station detects in Hawaii record levels of carbon dioxide, higher than ever above 'safe' 350ppm mark. This slideshow puts recent 400ppm reading in context of centuries and millennia of data.