Libyan Revolt Grows, Oil Reserves High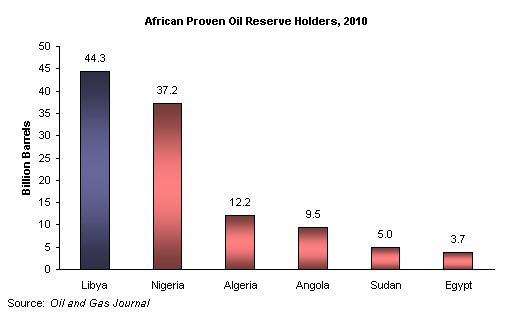 Source:Energy Information Administration
As rebels consolidate their grip on Libya, the world is beginning to assess
the country's impact on oil markets.
On August 19, rebels took the oil refining town of Zawiya, 30 miles west of the capital Tripoli. Zawiya has the country's second largest refinery, with a capacity of 120,000 barrels per day.
Although Libya's oil production has fallen sharply from the the 3 million barrel per day peak in the late 1960's, it still holds vast proven reserves of oil and ranks high among oil exporters. It's oil profile gives helps define its character in the midst of political turmoil in the Middle East.
Libya, with 44 billion barrels has the largest proven reserve of oil in Africa (see chart) and is the ninth in the world. It exports about 1.5 million barrels a day. Of these, 80,000 barrels go to the US, down from the last two years. Among its biggest customers, Italy buys 32% of Libyan exports, Germany 14% and the rest of Europe another 14%.
However, after decades of rule by strongman Moammar Qaddafi citizens of Libya have taken to the streets. Their western neighbors in Tunisia toppled their president in January, and their eastern neighbors in Egypt ousted their president in February.
As stories in the news feed below will show, on Aug. 20, 2011 rebels forces to their fight into Tripoli and by the next day were in control of the central square. Gaddafi's sons were captured by the rebels.
---