Chevron Refinery Fire of Mon. Aug. 6, 2012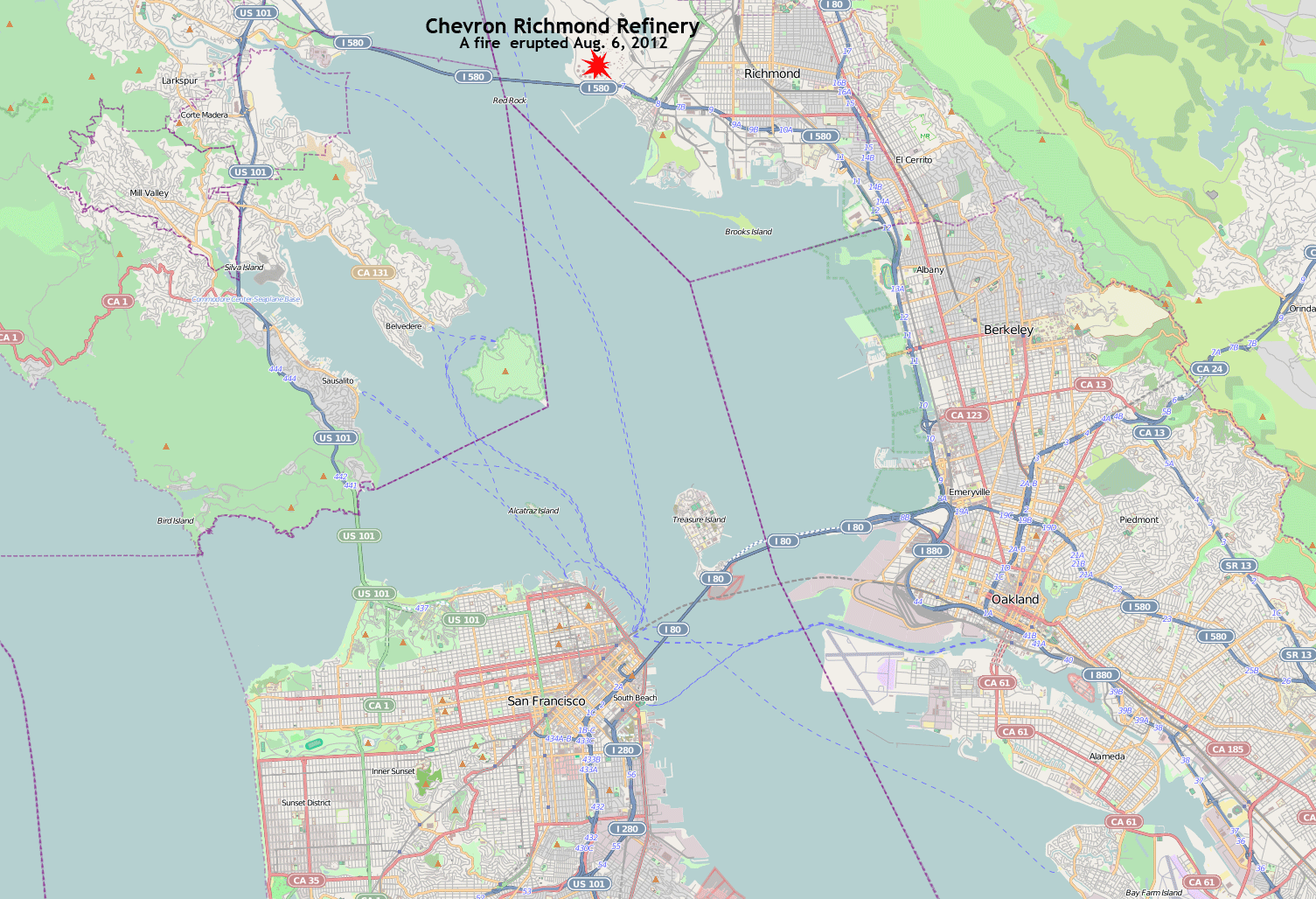 Location of the refinery fire 10 miles northeast of San Francisco.
Click for a larger map. Map source: OpenStreetMaps
A major fire erupted at the Chevron Richmond Refinery
in the Bay Area of California on Mon. Aug. 6, 2012. By the next day more than
900 people in the area were treated for respiratory ailments
at a nearby medical facilities, and gasoline prices on the West Coast of the US are expected to rise because of the fire.
At about 4:15 pm workers were investigating a diesel fuel leak. Determining that they were not able contain it, they moved out of the area and a fire at the '4 Crude Unit' soon erupted. The fire spread throughout the refinery and by 6:15 pm flames were sending plumes of smoke six miles into the sky.
The fire had been contained by 10 AM the next morning, but analysts said the blaze could push California gasoline prices past $4 per gallon this summer.
The Chevron Richmond Refinery is a 2,900-acre facility on the San Francisco Bay and processes about 240,000 barrels of oil per day, one-eighth of California's total.
The refinery is about 10 miles northeast of San Francisco, just north of Berkeley and near the San Rafael Bridge. An oil tanker terminal pier is located to the south of the refinery and the bridge.
---
Infrastructure Failure - Stories, Links and Resources
News from our recommended reading list
about Infrastructure Failure