Blizzard Cuts Much Power, Takes Heavy Toll on Trees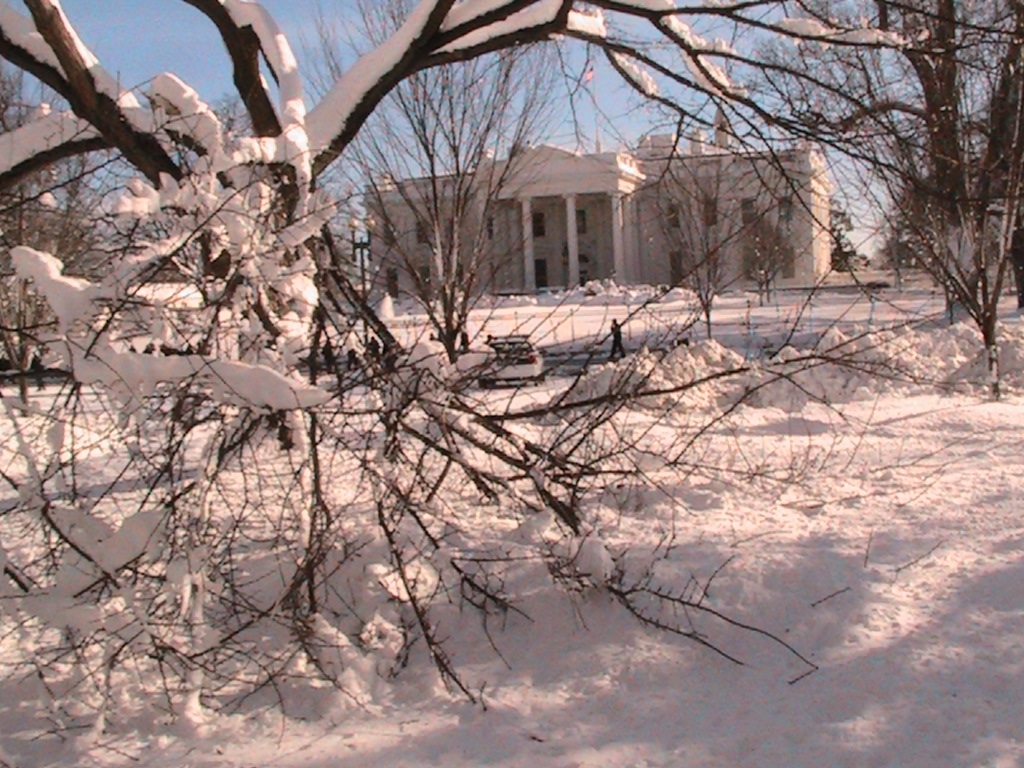 Broken branches near the White House
(Washington, DC - Sun. Feb. 7)
-- Despite sunny skies and snowball fight festivals after a major snowfall, the Mid-Atlantic region this week struggled to cope with two feet of snow. Reports of
power losses from Pennsylvania to Virginia
topped well over 400,000.
North of the blizzard zone, tragedy struck in Connecticut when a natural gas power plant exploded, killing five people. The plant, designed to produce 620 megawatts, was being tested and was under construction.
Snow emergencies were declared by most major jurisdictions in the region of the snow. Snow laden branches tumbled from trees, taking a toll on city trees and downing electrical lines as they fell. A branch fell on a vehicle in a motorcade following President Obama. Throughout the region hundreds of fender-benders were reported, but few vehicle deaths. A hangar roof at Dulles International Airport collapsed.
The damage to economic and natural infrastructure is still being assessed, and more snow is expected in the region on Tuesday. GlobalResourcesNews.com invites you to share your experiences by e-mailing witness@globalresourcesnews.com

Recent News about extreme weather
Below are any various articles and links on extreme weather in our archives. The results start with our original content.
form
below.
GlobalResourcesNews stories on the search term: extreme weather
Propane Scarce, Crops Threatened in Freeze
Aftermath of Sandy Hits East Coast
Isaac Hits Gulf. Venezuelan Refinery Smolders
Extreme Weather Takes Toll on Crops, Society
Crop Forecasts Cut Again as Drought Persists
Natural Gas Shortages Hit New Mexico, Arizona
Welcome to the GlobalResourcesNews About Us Page
News from our recommended news reading list
Conditions Ripe for Active Atlantic Hurricane Season
2013-05-23
NOAA Calls for Changes Following Superstorm Sandy
2013-05-16
Key Figures on Superstorm Sandy, 6 Months Later
2013-04-29
The 32 most alarming charts from the government's climate change report | Grist
2013-01-14
Are renewables stormproof? Hurricane Sandy tests solar, wind.
2012-11-20
Greenhouse gases hit record high
2012-11-20
Long Island Power Authority's Flaws Hindered Recovery Efforts
2012-11-14
Factbox: Fewer than 167,000 without power after Sandy, Nor'easter
2012-11-12
Costs from Sandy into the billions as thousands struggle, still, without power
2012-11-12
Climate Change Report Outlines Perils for U.S. Military
2012-11-10
Maya civilization's collapse linked to climate change: study
2012-11-08
3-D Maps Pictured Sandy's Devastation - Five Years Ago
2012-11-01
NYC subway creaking back as region assesses damage
2012-11-01
Storm Sandy's Damage Will "Take Some Time" as Transit, Power Hit
2012-10-31
The scale of post-Sandy challenge in NY, NJ is unprecedented
2012-10-31
A state-by-state look at the East Coast superstorm
2012-10-31
Obama travels to New Jersey as millions begin Sandy recovery effort
2012-10-31
Assessing Damage From Hurricane Sandy - Graphic
2012-10-31
Map of Sandy's impact
2012-10-31
New York Mops Up as Sandy's Floods Recede, Deaths Climb
2012-10-31
Did Climate Change Supersize Hurricane Sandy?
2012-10-29
The "Frankenstorm" and Global Warming
2012-10-29
Why Sandy Has Meteorologists Scared in 4 Images
2012-10-28
5 Reasons Why Sandy Is Expected to Be a Superstorm
2012-10-28
Hurricane Sandy: 10 statistics that place this powerful storm in perspective
2012-10-28
Links for the search term: extreme weather
NASA Study Projects Warming-Driven Changes in Global Rainfall
From the site: "The models project for every 1 degree Fahrenheit of carbon dioxide-induced warming, heavy rainfall will increase globally by 3.9 percent and light rain will increase globally by 1 percent. However, total global rainfall is not projected to change much because moderate rainfall will decrease globally by 1.4 percent. "
Costliest Hurricanes in the United States

			
Rank:	Name:	Year:	Damage (U.S.)*:
1	Katrina	2005	$105,840,000,000 
2	Sandy	2012	$55,000,000,000 
3	Andrew	1992	$45,561,000,000 
4	Ike	2008	$27,790,000,000 
5	Wilma	2005	$20,587,000,000 
6	Ivan	2004	$19,832,000,000 
7	Charley	2004	$15,820,000,000 
8	Irene	2011	$15,800,000,000 
9	Hugo	1989	$9,739,820,675 
10	Rita	2005	$11,797,000,000 

$1.4 million in aid from Hurricane Irene announced in April 2013, 20 months after August 2011
Hurricane Irene made landfall on New Jersey on Aug. 28, 2013. On April 26, 2013 $1.4 million aid was still being disbursed.
Hurricane Data Sets from the Hurricane Research Division
Chronologies, timelines especially for the ones that made landfall.
Historic Hurricane Tracks through Florida, with links to costliest storms and other disasters information

Hurricane Spaghetti Models from Cyclocane
Graphical looks at computer simulations of potential tracks of hurricanes
Billion-dollar disasters in 2011, Hurricane Irene was most expensive

Mesonet
From the Web site: " Definition of "Mesonet"
"Mesonet" is a combination of the words "mesoscale" and "network".
In meteorology, "mesoscale" refers to weather events that range in size from about one mile to about 150 miles. Mesoscale events last from several minutes to several hours. Therefore, mesoscale weather events are phenomenon that might go undetected without densely spaced weather observations. Thunderstorms, wind gusts, heatbursts, and drylines, are examples of mesoscale events.
A "network" is an interconnected system.
Thus, the Oklahoma Mesonet is a system designed to measure the environment at the size and duration of mesoscale weather events."
NOAA and the Agricultural Sector

Hundred Year Forecast: Drought
Good long-term drought records and online mapping about drought and water availability.
Share your comments on this story