Oil Markets Watch Libyan End Game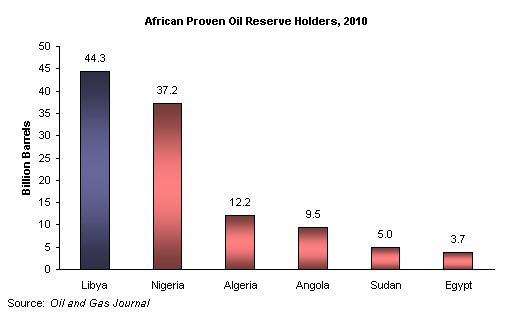 Source:Energy Information Administration
As Libyan rebels celebrate territory won, although they are still mopping up the remnants of Muammar Gaddafi's forces, actors in the world oil market are eyeing the prospects of renewed production.
Libya, holding Africa's largest oil reserve at about 44 billion barrels, exported about 1.5 million barrels a day before the revolt began in early 2011.
Libyan rebel oil company AGOCO has already announced two eastern oilfields are ready to resume pumping oil. Brent crude dropped in London on the news, while analyst warned that it could be years before pre-war levels of exports were seen. Italy's Eni said it could restart its operations in a few months. Europe is bigger customer of Libyan oil than is the US.
Canada's Suncor said it was too early to assess its joint venture with Libya's National Oil Corp.