US Oil Suppliers Assessed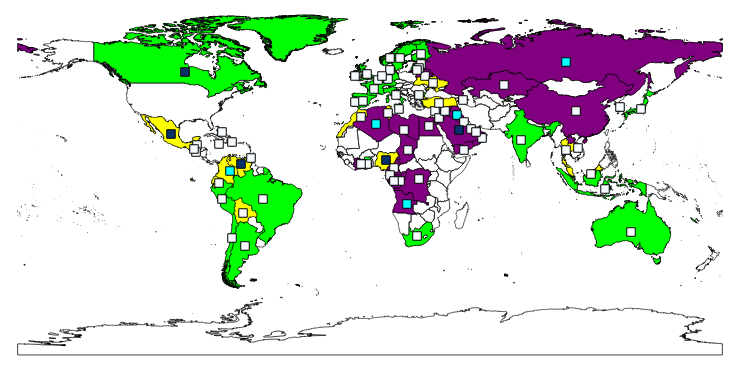 The US gets 60% of its imported oil from countries
which are not free nor stable. Click on map for more details.
Algerian Attack Underscores
Vulnerability of US Suppliers
July 31, 2012 -
The United States gets most of its imported oil from countries that are less than stable, peaceful or fully free, Global Resources News found by comparing import data to studies produced by three think tanks.
The Jan. 16 attack on the In Amenas natural gas facility in Algeria exemplified the strategic nature of fossil fuel infrastructure. Militants linked to Al Qaeda stated the takeover in retaliation for France intervening against Islamist rebels in Mali. The Algerian attack and response by the government killed 48 oil workers who had been taken hostage and 32 militants, the Algerian government said.
Of the 11.3 million barrels a day of oil that flowed into the United States in 2011, 6.9 million, or 60%, came from countries that Freedom House regards as not free or partly free and that score poorly on the Failed State Index and the Global Peace Index. (Algeria exports 358,000 barrels of oil per day to the US, but most of its natural gas goes to European, Middle Eastern and North African markets.)
Buying foreign oil also constitutes a major economic impact on the US economy, with net petroleum imports persistently contributing more than $10 billion a month to the US trade deficit.
Observers have often noted the vulnerability of US oil supplies from countries under stress. Retired Admiral Dennis McGinn, now president of the American Council on Renewable Energy, has called US oil dependency "clear and present danger" for the country.
Click these links for an interactive map detailing the political assessment of U.S. oil suppliers and a sortable table of the data.