Renewables to Top Gas: IEA
July 1, 2013
- Renewable energy is expected to surpass natural gas as the generator of power by 2016, the International Energy Agency said.
"As global renewable electricity generation expands in absolute terms, it is expected to surpass that from natural gas and double that from nuclear power by 2016, becoming the second most important global electricity source, after coal," the IEA said in a report issued in June.
China will account for much of the growth, but renewables will become more competitive with fossil fuel sources in other regions, the report said.
"From 2012-18 renewable electricity generation should rise by 40% (1 990 TWh or 6% per year [/yr]), from 4 860 TWh to 6 850 TWh," the report said.
Biofuels and renewable heat sources will increase, but renewable electricity is expected to be the major driver in the alternative energy field.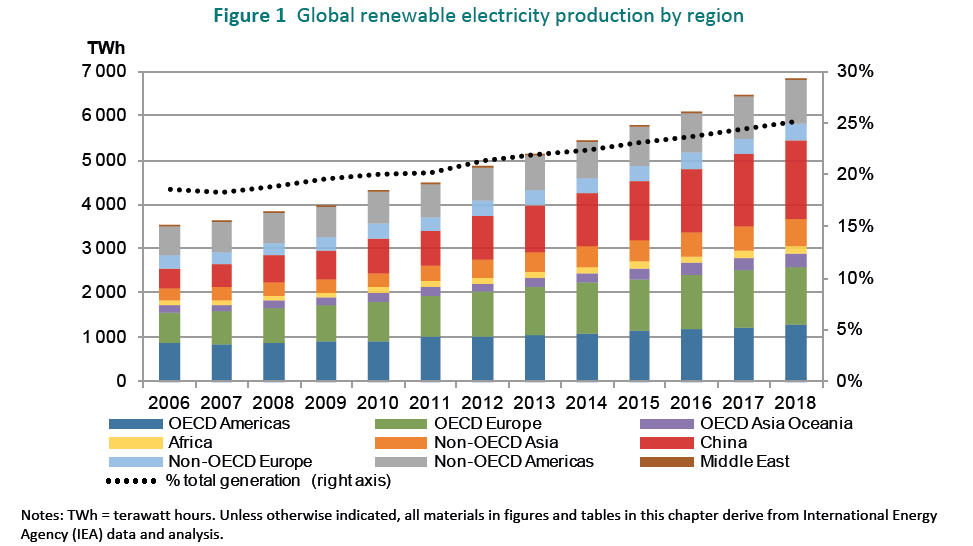 Where the change will happen
As the graph to the left shows, both China and the OECD members of Europe have produced increasing amounts of electricity from renewables, and will continue to do so over the next five years. The Western Hemisphere will also make a major contribution.
A significant reason for this difference is the relative abundance versus scarcity of fuels in regions. New technologies such as hydrofracturing are permitting, for the moment, enhanced recovery of natural gas in North America. This makes gas more competitive in the Western Hemisphere than in gas-importing regions such as Europe or China.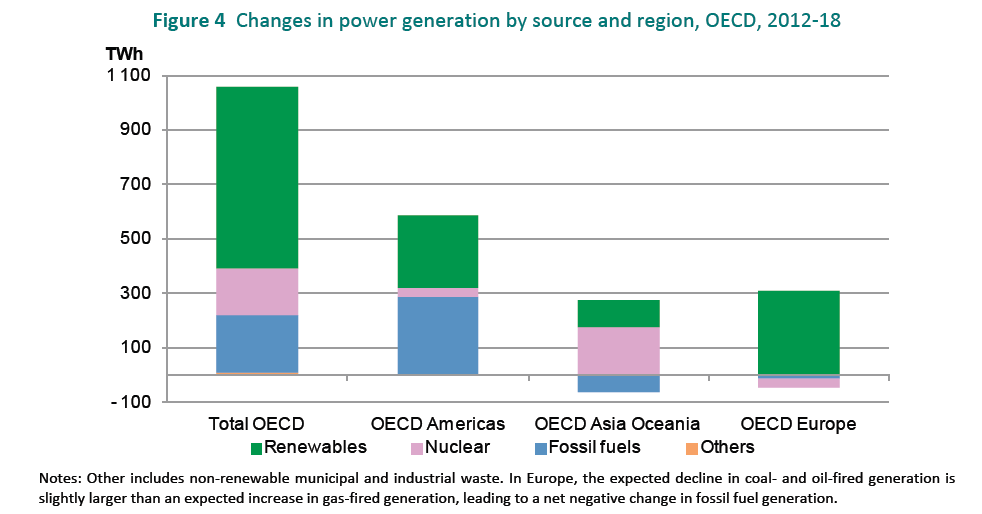 Differences in energy sources in various regions
These differences in energy endowments and needs are illustrated in the graph on the right, which shows expected growth rates for major sources. Although renewables in the OECD are expected to enjoy a major growth, that increase will not be spread evenly throughout the economically developed world.
In the Americas, fossil fuel growth will outpace renewables as new wells come online. Nuclear will grow relatively little.
This is in contrast with OECD Asia and Oceania. Nuclear is expected to play a much greater role than in the Americas. China's growing appetite for electricity and its political willingness to commit to nuclear projects will put increases in that technology on par with renewables.
But the internal and international politics of Europe will all but give growth in nuclear s smaller profile and all but marginalize the increase in fossil fuel. Germany has committed to a nuclear-free future. Renewables will be the major new player on the field as Europe seeks to lessen its reliance on imports of natural gas from uncertain suppliers.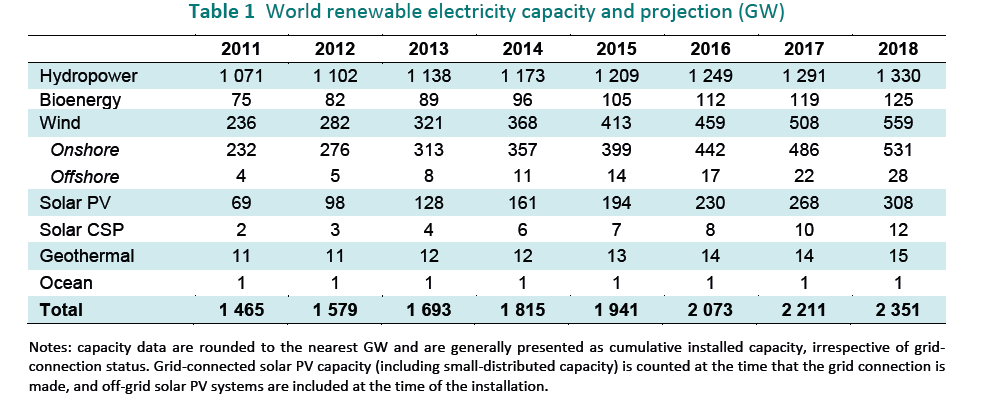 What renewable technologies will prevail?
The relative mix of renewable technologies will remain roughly the same through 2018, the IEA report said.
Hydropower has been the only renewable source generating more than 1,000 gigawatts of electricity, and that will remain the same in 2018.
Wind will grow to about twice the contribution it made in 2011, producing 559 GW, the vast majority from onshore sites, but with 28 GW from offshore facilities.
Solar photovoltaics will continue a rapid acceleration, having grown from 69 GW to 128 GW this year. It will generate 230 GW by 2016 and then 308 by 2018.

---
Renewable Energy - Stories, Links and Resources
News from our recommended reading list
about Renewable Energy