Food Data Reveals Ecological Impacts
May 5
- Food sustains life throughout the planet, but over the weekend it also nourished the thinking of Web programmers and policy thinkers at the National Geographic Future of Food Hackathon.
In a 24-hour sprint, techies from around the United States met at the National Geographic building in Washington, DC, to contemplate feeding a growing human population. There they turned data from the UN's Food and Agriculture Organization (FAO) into Web programs that could guide actions to produce better yields or reduce wasteful impacts of agriculture or consumption.
They developed apps for shopping decisions and interactive Web sites that describe the amounts and patterns for waste. Some use the data and their apps to compare macro-impacts of consumption of various countries in the world. Developers looked at nutritional dimensions for an individual as well as ways to use data and Web performance to devise nation- and region-wide development strategies.
The principal tool for the hackathon was the FAOSTAT data of FOA. The datasets available include information for 245 countries and territories. It monitor parameters such as price, investment, weather conditions, trade and population.
Recognition of Apps
Part of a
"Food for the Future" series
by National Geographic, the hackathon wrapped up with recognition of the work of the development teams, all of which can be found at the
event's Hack Dash
page.
The best in show recognition was split by projects called "FareTrade" and "Food for Now." FareTrade is an app that reveals the food miles, or distance travelled, of items on a grocery list that is inputted by the user. The app will disclose the typical number of miles a specific item travels from the field to the grocery shelf, but it can also add the total number of miles of all items under consideration for purchase. FareTrade also draws from the FAO dataset to see the likelihood that a grocery store item would be imported from another country, which would typically increase the distance travelled by a substantial factor.
Food for Now shows various choices of fruits and vegetables that are in season in various states of the country. It also links to a recipes for the particular types of produce that are on the list. For instance, at the time of the Hackathon, in Missouri grocery and farmer's market shoppers could get seasonally-fresh asparagus, cabbage, cucumbers, onions, radishes, turnips and tomatoes. The recipes combine these with various other ingredients, leading to meal suggestions such as fettuccine with asparagus, pesto and artichoke, basic fish tacos or vegetable shepard's pie. A gallery of pictures of the recommended dishes accompany each produce item.
Comparing National Diet Impacts
The recognition for best concept went to
"Food of a Nation."
This Web site compares the consumption patterns of one country to another and what the impacts would be. For instance, if the population of Japan ate the same diet, on a per capita basis, as the United States it would need an additional 50 trillion liters of water for the agricultural production. The site uses graphics to display the differences of the impacts.
It also has the capacity to compare one a chosen country's consumption impact to that of the world as a whole. For instance, if China's eating patterns were the same as that of the entire world it would require far less wheat and pigs, but far more cows. China's agricultural land use would stay about the same, but it would use 90 trillion fewer liters of water.
The same comparison for the United States shows that, if the US ate the typical diet of the world as a whole, it would consume less beef, pork, chicken and wheat, but far more vegetables, rice and goats. The United States could take 61 million acres of land out of agricultural production, and use 64 trillion fewer liters of water.
The nod for best use of data went to "Pathways of Solving Hunger." This Web site assessed different countries' abilities to respond to various aid strategies. In its example it showed that Rwanda would benefit if an NGO or donor provided seed and fertilizer because the country's rainfall, population density and percentage of cultivable land are conducive to this form of aid. By contrast South Sudan would not benefit as well with this strategy according to the Web site's analysis.
Food Footprints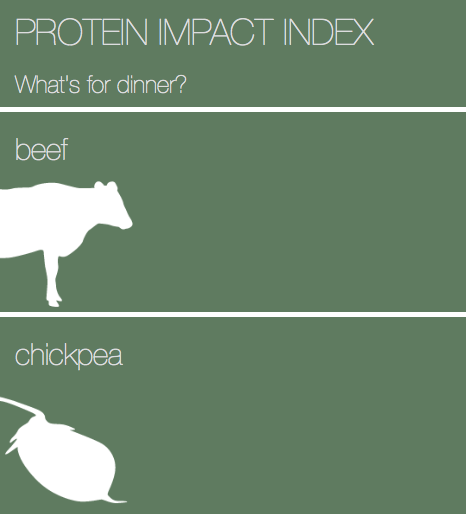 The
"Protein Impact"
Web site showed the various costs of different sources of protein in an info-graphic. For instance, by the measures of the Web site, a pound of beef costs $5.05 per pound; 100 grams provides 15 grams of protein; a kilogram has the carbon footprint of 9 miles of car travel; and a kilocalorie requires 11 liters of water. By contrast, chickpeas, for the same metrics, cost $0.40 per pound, provide 19 grams of protein, equal a half-mile of car travel and consume only 1.3 liters of water. The app also renders the various choices of protein on a scale of most impact to least impact. Chickpeas and then soybeans have the least impact. Pork has the most impact, with beef having almost as much.
An app named "Scrap Stats" is being designed to alert consumers to the typical wastage of perishable items. For instance, there is a 91 percent chance that a lemon will go to waste before it is eaten; the developers said shoppers could use this information by buying one lemon instead of a bag of nine. The food waste statistics came from the USDA Economic Research Service. The Food Hackathon site points to this projects github page, as well as to the other projects.
Food policy
The
"FAO Explorer"
uses NASA Landsat satellite imagery to look at changes in land use patterns for agriculture in China since 1985. The team focused on Shanghai and Beijing to build a model of using the image to animate urban development expanding into the countryside and the increased investment in meat production.
One team developed an "Opportunity Finder" that took FAO data and looked for areas with lower agricultural yields that could be well-served by an development intervention.
Food in Conflict
The use of information technology demonstrated at the hackathon sheds light on various problems confronting and solutions facing a world that is expected to have an additional two billion people by 2050.
Already, agricultural problems and prizes are creating conflicts. The civil war in Syria was preceded by a large displacement of people because of drought that destroyed farm yields. And in Ukraine, the eastern provinces that are the subject of competition between the Kiev and Moscow governments are also major grain producing areas, with large yields of wheat and corn at stake.
However, some efforts are being made to increase the supply and nutritional value through local gardening efforts.

---
Food - Stories, Links and Resources
News from our recommended reading list
about Food
Food
Global Resources News stories
US Bombs ISIS; Iraqi Citizens Flee The Militants
Food Data Reveals Ecological Impacts
Wet Weather Fails to Lift California Drought
Propane Scarce, Crops Threatened in Freeze
Extreme Weather Takes Toll on Crops, Society
Food Prices Rise as Drought Persists
Drought and Food Prices Climb in Tandem
Faithful Grapple With Economic Paths, Problems
Senate Holds Hearing on Ocean Acidification
Pulitzer Works Look at Environmental, Conflict and Natural Resource Issues
Obama to Open New Areas to Offshore Drilling
Bioswales Channel Rainwater to Sustain a Garden
CIA Cover Story Gives Birth to Deep Ocean Mining
UN Security Council Resolution 1973
Establishing No-Fly Zone over Libya
and Authorizing All Necessary Actions to Protect Civilians in that Conflict
Social Media Activity of Global Resources News
Local Gardening: Connecting the Dots Channel
Food Waste: Causes, Ramifications, Solutions Channel
Links for the search term: Food
Forest Crops Can Fight Malnutrition
Nutrient-rich forest foods could play an important role in efforts to provide healthy diets for people around the world if they are identified in national nutrition strategies and made more readily accessible, according to new scientific research.
Infographic of Food Waste, by type of food and phase of supply chain
This database shows how food types, such as grains, fruits & vegetables and oils, go to waste before reaching human consumers.
For instance, fruits & vegetables are most likely to go to waste (44% is lost), but most of the lost occurs after the foodstuff leaves the field. But much is lost during the growing phase, unlike fishing or oil and bean production, where very little is lost during growing, or grains where lesser amounts are lost during growing. The information comes from a 2011 United Nations study.
Permaculture Voices Podcasts
An audio description of the design certification course. It has a written introduction that gives the history of PDC, starting with Bill Mollison in Australian. In the hour-long audio the narrator discusses how the practice and the training helps reframe their approach to horticulture and food. The podcast interviews eight well-respected instructors on basic concepts of PDC courses. It discusses how a PDC goes beyond gardening technique, although it does study natural principles at work in a broad range of activity of which horticulture is very important. This page is part one of two parts discussing the courses.