Labor Day, 2014, Gasoline Cheapest in Years
Aug. 29, 2014 -
As US motorists take to the highways for the Labor Day weekend they will be paying an average of about $3.44 per gallon for gasoline, the cheapest gas has been for the holiday since 2010.
Mid-week national prices averaged $3.43 per gallon, but climbed slightly as vacationers began traveling for the long weekend holiday. According to the US Department of Energy, prices are down about 9 cents per gallon from Labor Day 2013. Prices were significantly less expensive in 2010, with a gallon of gasoline selling for about $2.70 during in late August.
Crude Oil Prices Inching Back Up
Gasoline and other motor fuels have fallen in concert with crude oil. Nymex oil traded at $94.37 per barrel mid-day Thursday and climbed to $95.17 Friday morning; Brent crude rose from $102.62 to $102.85 in the same period. Although these prices reflect a slight uptick from earlier in August, they are significantly lower than earlier in the summer.
The benchmark prices for oil had been much higher earlier this year with turmoil in Ukraine, Syria and Libya. Nymex oil traded above $105 in late June as fighting in Libya and conflict in Ukraine roiled international markets.
US Production Growing, Offsetting Supply Disruptions from Foreign Sources
However increased North American production has led to ample supplies of crude for current conditions. This has led to reduced reliance on imported oil; the DOE says that about 40 percent of oil comes from foreign sources.
2013 Year of US Oil Production Growth
US oil production in on for the week of August 22, 2014 was 8.6 million barrels per day, said the US DOE's Weekly Petroleum Status Report. However in March DOE reported that 2013 experienced a 15 percent increase in oil production from 2012.
That high level of production has persisted into 2014 and has offset the loss of world production due to turmoil. For instance, the Brent crude reversed its August decline this week in large part because of geopolitical concerns over Russian-Ukrainian border tensions.
Overall for recent events, DOE estimates that loss to be about 3 million barrels per day.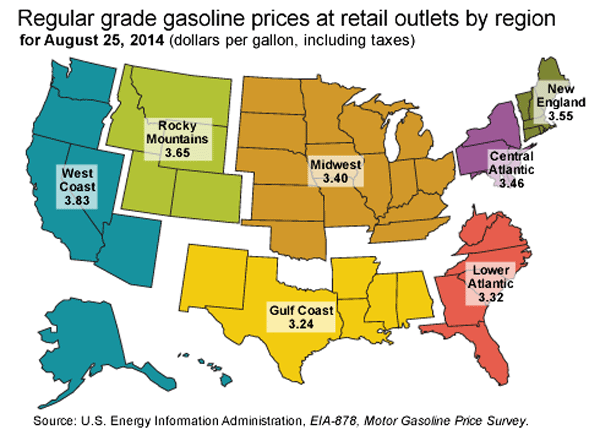 The DOE report said:
As domestic production rose during 2013, crude oil imports were displaced and net imports fell to 7.6 million bbl/d - the lowest level since 1996. U.S. net imports of crude oil declined by 861,000 bbl/d (10%) in 2013 and at year-end were 30% below the June 2005 peak of 10.7 million bbl/d. The share of U.S. crude oil demand supplied by domestic production rose sharply in 2013, averaging 49% compared with 43% in 2012. U.S. crude oil production was 6% higher than net imports in the fourth quarter of 2013.
Track gasoline costs through the GlobalResourcesNews special page on gasoline prices.

---
Gasoline - Stories, Links and Resources
News from our recommended reading list
about Gasoline