Oil Ends Week, Starts December Above $100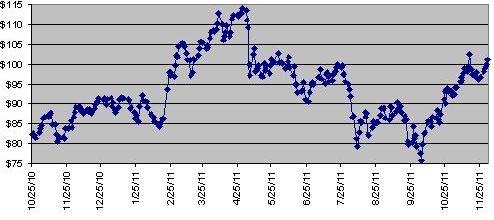 NYMEX Oil, Oct. 2010 to Oct. 2011 - Source of data eia.doe.gov
(Dec. 2, 2011) - Oil futures ended the week, and began a new month, above $100.
The price action followed a run-up from the $85 per barrel level earlier in the fall, but also after news emerged from Iran about advances in nuclear weapon technology.
Helping to firm the week's oil price was a decision by large central banks to lower their lending rates to each other and a drop in the US unemployment rate to 8.6%. However, underlying the employment figures were signs of continued weakness: participation levels fell in November (which meant the rate was calculated from a lower base) and avererage income was down.
Furhter, OPEC is expected to cut production quotas when it meets this month.

---
Oil Prices - Stories, Links and Resources
News from our recommended reading list
about Oil Prices