Oil Stays in $90 Range Despite Big Inventory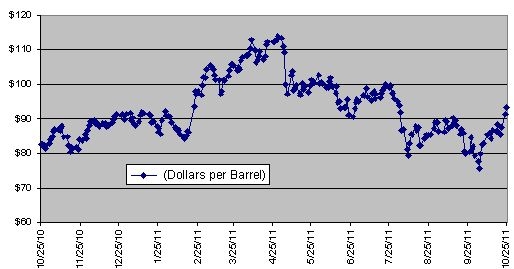 NYMEX Oil, Oct. 2010 to Oct. 2011 - Source of data eia.doe.gov
NYMEX benchmark crude oil closed at $90.20 Wednesday, Oct. 26, on reports of
a 4.7 million increase in inventories
. Thursday, oil
climbed above $93
after Europeans reached a debt agreement.
Oil had reached a recent low of $75 a barrel on Oct. 4, coinciding with a drop in stock prices and other factors relating to economic prospects. But as traders perceived progress in Europe's debt negotations, the price of crude rose steadily throughout October. By Monday it surpassed $90 and touched $93.69 in Asian trading mid-week.
But the price fell when the Dept. of Energy announced a 4.7 million barrel build, as opposed to the expected 200,000 barrel increase. Nonetheless, at the close the $90 price point held.
In Middle East-North African news, Iraq announced it would re-enter the OPEC quota system in 2014 and seek as high a quota as possible. It is exempt at present, and has announced hopes of increasing its production from 2.9 million barrels a day. Brent has fallen recently based on increased Libyan and North Sea production. It closed Wednesday at $108.91.

---
Oil Prices - Stories, Links and Resources
News from our recommended reading list
about Oil Prices