World Shale Plays Face Water Risk
Sept. 11, 2014 -
As shale gas extraction expands around the world, producers face risks of working in areas that are either dry or have high water stress, a new report says.
Lack of water or problems using it could create serious business risks for drillers attempting to use hydraulic fracturing techniques to extract shale gas, said the shale-water stress report, issued by World Resources Institute.
About 38% of the areas with shale gas potential experience dry conditions or high water stress level. Also, 40% of the top 20 countries rich in shale natural gas potential face arid or water stress conditions, the report said.
Shale-Water Risk
The WRI report based its measure of water risk on seven factors. A key indicator is the baseline water stress, which is the ratio of water withdrawals to the amount of renewable surface water supplies.
Water risk for shale, as measured by WRI, can also include: seasonal variation in water supply; drought severity; groundwater depletion rates; population density and the nature of the shale gas deposit.
WRI took estimates of the "Technically Recoverable Resources" of shale gas. This metric describes methane reserves locked in shale geological formations deep beneath the earth that are believed to exploitable. It does not mean that enterprises are trying or will try to frack for all of the TRR shale gas reserves.
The World Resources Institute report also contains maps of individual countries, outlining the areas of potential shale gas resources and color-coding those regions based on water stress conditions or aridity. The country profile of China, described below, illustrates the challenges that large country faces in choosing how to manage water among competing choices, such as shale extraction.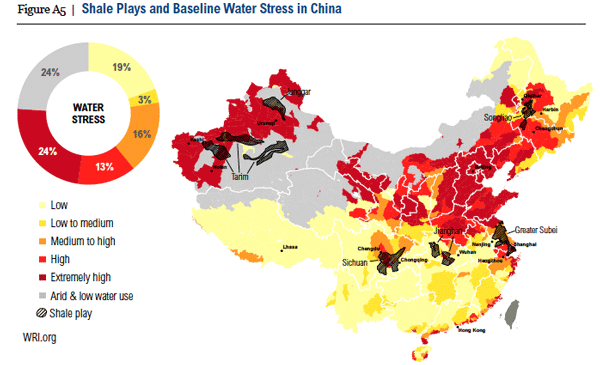 China: Much Shale Gas,
Water Constraints
China is particularly squeezed in its shale-water nexus. The country has estimated shale gas reserves of 1,115 trillion cubic feet. Yet 61% of the areas in China with shale gas are arid or face some form of water stress.
China, the largest fast-growing economy in the world, is a major consumer of natural gas. Its proven gas reserves, largely conventional plays, is about 155 trillion cubic feet. The US Dept. of Energy said China produces 3.8 Tcf per year and may increase production to 10 Tcf by 2040.
China's south is relatively abundant in water, but the main fossil fuel reserves and the industrial activity are in the north, the report said. "In response, the South-North Water Transfer Project is underway, which is designed to transfer more than 44 billion cubic meters," the report said.
China Shale Plays
The Sichuan play, located near the center of China, is the most important shale gas reserve, the report noted. But it is also in an area of very high population density with serious competition for water.
About 95% of the land encompassing the Tarim play, in the west, is arid, in an area with a high groundwater stress and competition and subject to significant seasonal variations. The Junggar play, also in the west, faces similar conditions.
Other than the Tarim and Junggar plays, China's other potential shale gas reserves are in areas of high population density. The Greater Subei is near the coast, and the Songliao, in the northeast, faces a high drought severity risk.
Water and Shale Gas Databases
WRI produced its report, in part, with data from its own
Aqueduct database
of the world's water resources.
It compared this data with tat with a database of potential shale gas regions. The international shale gas database produced by West Virginia University and National Energy Technology Laboratory.
Further, the WRI Web site provides an interactive map of water risks associated with shale.

---
Water Risk - Stories, Links and Resources