Arctic Drilling Continues Despite Test Failure
See Also: Shell Encounters Ship Problems in North at End of 2012
Sept. 18, 2012 - Although actual drilling for Arctic oil will have to wait until at least 2013, Shell Oil continues to plan preparatory work on a well site about 70 miles off the north coast of Alaska.
The failure of important safety equipment scrubbed plans for deep drilling into the oil zone in Alaska's Chukchi Sea. A containment dome designed to catch oil spilled from any accident on the Arctic seabed was being tested by Shell Sat., Sept. 15 when accidents caused damage to the dome. Shell officials said it could not be repaired before ice begins to reappear in several weeks over the Arctic oil field.
Nonetheless, one week before Shell began drilling a 'top hole' at its Burger Prospect site. (See map) The top hole is the first step in drilling a much deeper well into oil far below the arctic surface. It also contains a 20-foot by 40-foot side hole which would contain a blow-out preventer. The drilling ship did move from the site because of encroaching ice.
---
Related Story: Expert Panel Describes Slow Progress in Offshore Drilling Safety After Deepwater Horizon Oil Spill
---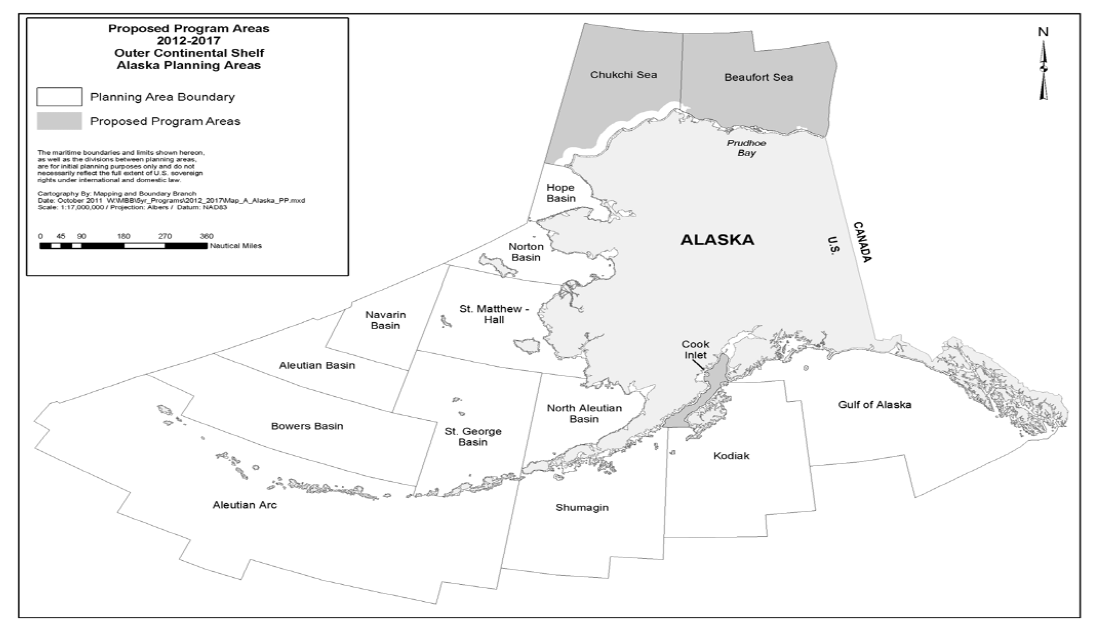 Shell plans more such top holes in the Arctic in coming years. During the last few summers the Arctic Sea has experienced such a serious melting, with the summer of 2012 experiencing a record low. Oil companies are moving into the area to extract the fossil fuel beneath the surface.
The drilling is part of a larger race for riches in the Arctic. Several nations border the northern ocean, and now that it is becoming more accessible due to global warming they are seeking to extract more hydrocarbon fuels and other minerals from it.
The US Dept. of Interior has included the Chukchi and Beaufort Sea areas in its offshore continental shelf drilling plans through 2017. The map to the left shows that Alaska abounds with drilling areas, but the politically and environmentally sensitive area off Alaska's north bank has come more into focus with Shell's recent 'top hole' preparations and the failure of the dome that would have contained any spills in the frigid waters.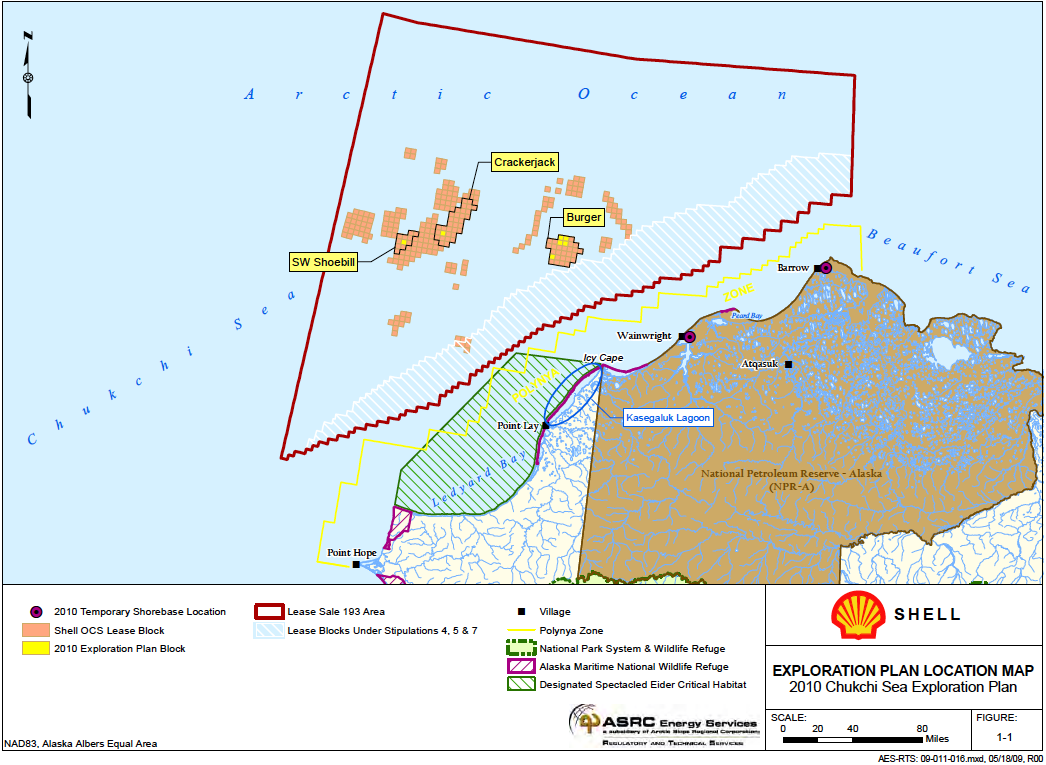 Shell has
spent $4.5 billion
so far in its efforts to operate in the Chukchi and Beaufort Sea areas north of Alaska. (See map to right).
Arctic Energy Reserves: How Much?
But these two sites are part of a vast ocean. Estimates vary about the amount of oil that can be produced from the Arctic.
Some say that the Arctic seas could produce 1 million barrels a day.Shell has said it might produce 400,000 barrel a day from Chukchi Sea.
A 2008 USGS appraisal, estimated the oil equivalent of all hydrocarbons (oil, natural gas and natural gas liquids) at 90 billion barrels, including the oil that is on land in northern Alaska.
Russia is looking to the Arctic to make up for increasingly challenging oil production in Siberia.
---
ArcticOil - Stories, Links and Resources