Ukraine Energy Future Remixed Due to Crisis
---
Coal and Grain Areas in Conflict
---
Ukraine's President-Elect Calls for Unity
May 27
- Former cocoa commodity trader and chocolate tycoon Petro Poroshenko outlined a policy of unification for Ukraine as ballot counting indicated that he would receive a clear majority of votes for the country's presidency.
Poroshenko held a commanding lead of 54 percent in the presidential election, with his closest opponent garnering only 14 percent of the vote. Ukraine held the election after a Feb. 22 regime change which saw the previous, pro-Moscow president Viktor Yanukovych flee and the emergence of a pro-Russian insurrection in Crimea and the resource-rich eastern provinces.
Poroshenko told a news conference that he would restore order in those eastern provinces and work to mend foreign relations with the Russian government.
Business Career Began with Cocoa Trading
Poroshenko, 48, graduated from college in Ukraine in 1989, and began his career as the Soviet Union was dissolving. His first business traded in cocoa beans, and he came to own confectionary operations. These and other business ventures brought him wealth of more than a billion dollars and the nickname of the 'Chocolate King.'
He has served as Ukraine's Minister of Foreign Affairs and Minister of Trade and Economic Development.


Referendum in Ukraine's East Still Planned
May 9, 2014
Despite Vladimir Putin's call to postpone a referendum on secession, pro-Russian activists in Ukraine's eastern provinces still intend to hold the plebiscite.
Putin on May 7 had called not only for the vote's postponement, but also endorsed a May 25 Ukrainian presidential election throughout Ukraine and said that Russia was pulling troops back from its border with Ukraine.
Violence continues
But as Putin visited Crimea to celebrate the victory over the Nazis in World War II fighting erupted between pro-Kiev and pro-Moscow factions in the coastal city of Mariupol, which lies on the Azov Sea and is about 35 miles from the Russia border.
Kiev Admits Loss of Control in Ukrainian East
April 30, 2014
- Ukraine's acting president Oleksandr Turchynov said that his government no longer had control over certainty towns and territories in eastern Ukraine. He blamed Russia for guiding proxy forces in the areas.
After the annexation of Crimea by Russia, Russian-speaking Ukrainians in the provinces bordering Russia began calling for secession from Ukraine and annexation by Russia. They began taking over government buildings and police stations and setting up road blocks. Kiev initiated a counter-offensive, but today the Kiev government admitted that it is losing ground.
Turchynov said that Russia is attempting to establish a corridor from Kharkiv, near the Russian border, through regions near Dnipropetrovsk to Odessa, on the Black Sea to Crimea and to the Transdnistria region near Moldova. Transdnistria is slender area with a major Russian population on the eastern border of Molodova. It broke away form Moldova in 1992 after the dissolution of the Soviet Union.
In addition to being a route of connection between Russia and Russian-speaking areas of Ukraine, the area that Turchynov described is also a major producer of coal, wheat and corn.
Ukraine Looks to Efficiency, Renewables
April 22, 2014
- Over the last week Ukraine has sought and received offers of help to boost both its efficiencies and replace some natural gas use with renewable energy.
Today US Vice President Joe Biden extended offers to Ukraine of technical assistance from US experts in energy efficiency.
The administration released its energy assistance agenda for Ukraine in which it pledged to:
Assist in reversing the flow of natural gas back
from Europe;


Work with European banks to increase
conventional production of natural gas
in Ukraine and help with an effort to extract
natural gas from shale formations with fracking;


Provide teams from the Dept. of Energy and USAID
to assist in energy efficiency improvements.
In Washington last week the Ukrainian embassy hosted a presentation on the potential for renewables in Ukraine. Among the proposals was converting natural gas boilers to run on wood.
East Ukraine Violence
Biden's visit coincided with continued and intense hostilities in eastern Ukraine. In Kramatorsk pro-Russian supporters broke into the police station and kidnapped the police chief; in Luhansk, very near the Russian border, separatist youths attacked a rally of Kiev government supporters; and in Solyansk gunmen reestablished roadblocks after Sunday's deadly gun battle to reopen roads.
Defiance Continues in Ukraine's Coal Belt
April 18, 2014
- A representative of pro-Russian insurgents said that the protesters would continue their actions against the new Kiev government despite an agreement signed in Geneva to defuse the crisis.
Denis Pushilin, leader of the Donetsk People's Republic group, said that his faction had not signed the agreement and would not relinquish control of government buildings it had seized.
In Geneva on Thursday, April 17, Ukraine, Russia, the United States and the UE signed an agreement that: called for an end to fighting; the laying down of arms by insurgents and the surrender of occupied buildings; and amnesty for those protesters. It also designated the Organization for Security and Cooperation in Europe (OSCE) to monitor the agreement.
Coal in Eastern Ukraine
Much of the region that is being disputed by pro-Russian insurgents contains a major coal deposit. Called the Donets Basin, or often the Donbas in reference to the larger region of coal to which it belongs. The Donbas reaches into Russia.
As Ukraine faces choices for energy after Russia on April 1 increased its price of natural gas to Ukraine by 40 percent, increased coal has become one of the options under consideration, raising the stakes of political control of the region.
The coal areas of the Donets Basin are high in methane gas content. This attribute has drawn attention as a possible way of obtaining more methane (the main component of commercial natural gas), but has also made the mines in the Donets Basin very dangerous. In 2007 a methane explosion at the Zasyadko mine killed 101 miners.
German Firm Begins Gas Reverse Flow to Ukraine
April 16
- German energy provider RWE reversed the flow of gas to Ukraine on Tuesday April 15, the company said.
Invoking provisions from a contract it signed with Ukraine in 2012, RWE could provide 10 billion cubic meters of natural gas to Ukraine. That would equal about on-third of Ukraine's imports of natural gas from Russia.
RWE said it would drawing the natural gas from its overall portfolio of European supplies. RWE acquires some of its natural gas from Russia, but also obtains gas from Norway and the Netherlands.
RWE said it would supply the gas based on European wholesale prices and delivery costs.
Other European countries have discussed reversing the flow of natural gas to Ukraine but had not signed agreements to do so as of April 16.
Russia has said that reverse flows to Ukraine would be illegal and has also said that Ukraine's failure to pay its debt for past natural gas deliveries could lead to curtailment of supplies in the future.
Military Movements
NATO said that it was increasing patrols in the Baltics and deploying more forces on the ground. NATO's north-eastern members are wary of Russia after its annexation of Crimea from Ukraine.
In eastern Ukraine about a half-dozen Ukrainian armored vehicles April 16 rolled through the streets of Sloyansk bearing Russian flags. The Kiev government said pro-Russian forces had seized the vehicles from Ukrainian forces.
Ukraine Tanks Roll. Euro-Energy Officials Look at Reverse Flow
April 15
- Ukraine activated mechanized forces Tuesday to counter intense protests in eastern Ukraine.
On Monday a deadline passed for pro-Russian protesters to leave government buildings they had seized in the eastern provinces, but the Kiev government did not take immediate action.
Pro-Russian activists showed little sign of moving from their positions, and instead set up road blocks. In Sloyvansk, which had been the scene of a gun battle which took the life of a Ukrainian security officer, some government buildings remained under protester control.
Energy Reverse Flows Near the western border of Ukraine, energy officials met in Velke Kapusany, Slovakia, to examine the possibility of reversing the flow of natural gas at the main pumping station in the region.
Ukraine is a major transit route for Russian natural gas to Europe. After Ukraine's breach with Russia this winter European leaders have been discussing possibilities of reducing Ukraine's dependence on Russia for natural gas.
Reversing the flow of natural gas in pipes that normally transmit it to Europe has been widely considered. However, the officials meeting at Velke Kapusany said an agreement to alter the flow of gas could be signed in a matter of days.
UN Intensifies Focus. Ukrainian Officer Killed.
April 14 -
A deadline for pro-Russian protesters to leave occupied buildings in eastern Ukraine passed Monday morning with no signs of the Kiev government moving immediately to enforce its ultimatum that the protesters abandon the buildings.
The standoff continued as international attention intensified on the crisis near the border of Ukraine and Russia.
The UN Security Council met in emergency session Sunday evening to review the increased hostility in eastern Ukraine. Earlier, a Ukrainian security officer had been killed in an armed attempt to oust pro-Russian protesters who had been occupying a government building.
Outside Slovyansk, about 150 miles from Russia, a Ukrainian Security Service officer was shot and killed by pro-Russian gunmen who fired upon Ukrainian security forces. Pro-Russian militants had seized the police station within that town.
Other towns have also seen government buildings occupied by protesters calling for a referendum on secession from Ukraine.
In New York, the UN ambassadors from the United States and the United Kingdom, speaking before the General Assembly, accused Russia of organizing the political unrest in eastern Ukraine. Russia's Foreign Minister, speaking in Moscow, said that Western governments should work to prevent a civil war in Ukraine.
Ukraine's government in Kiev said it would launch a campaign to reassert its authorities in eastern Ukraine.
Putin Threatens Euro Gas Supplies
April 10
- Russian President Vladimir Putin has warned European leaders that shipments of natural gas to and through Ukraine could be stopped if Ukraine does not pay for natural gas that it has already received.
About 15 percent of Europe's natural gas transits through Ukraine.
Ukraine missed an April 7 deadline to pay $2.2 billion on more than $11 billion debt for natural gas. Ukraine had said that a recent price increase by Russia was unacceptable; Russia had increased its price saying that it was ending a discount it had extended in exchange for naval bases in Crimea.
Putin also said that Russia has a contractual right to demand payment in advance from Ukraine for natural gas.
Prices are set to rise on natural gas in Ukraine for other reasons. On March 27 an IMF agreement with Ukraine said that the international lending agency would extend at least $14 billion of aid to Ukraine if it ended energy subsidies.
Natural Gas Payment Missed
April 8
- Ukraine did not pay a $2.2 billion installment on its natural gas debt to Russia, having said that a recent price increase of 44 percent was unacceptable.
Russia, which had set an April 7 deadline for the payment, has said it could curtail gas supplies if was not paid for them. Russia, has stopped shipments twice before (in the winters of 2005 and 2008).
However, there was no immediate action on the part of Russia today to signify such a cancellation. Further, the transit of Russian gas to Europe through Ukraine has not been affected.
Gazprom, the Russian natural gas firm, April 1 raised the price of natural gas to Ukraine from $268 per 1,000 cubic meters to $385. Russia said it was ending a discount it had extended Ukraine in exchange for basing naval forces on Crimean Black Sea bases.
The annexation of Crimea ended that agreement, Russia said, but Ukraine has rejected the annexation as illegal and the price increase as unacceptable. Ukraine's natural resource minister Andriy Mokhnyk has said that the loss of mineral resources in Crimea would cost his country $10 billion.
European Union Energy Meetings
Ukrainian officials met with the EU energy minister, Guenther Oettinger, and with natural gas executives to discuss ways to reduce dependency on Russian natural gas.
Oettinger and others have been attempting to reverse the flow of natural gas from Slovakia to Ukraine and provide Ukraine with as much as 8 million cubic feet of gas a year. Normally, natural gas flows in the opposite direction, with Ukrainian pipelines carrying Russian gas into Europe. Russia has said a reverse flow would be illegal.
Political Unrest in east Ukraine
Ukrainian police began arresting pro-Russian protesters who had taken over government buildings in the eastern city of Kharkiv. Nonetheless, official buildings in that town and in Donetsk and Luhansk, also in east Ukraine, remained occupied by protesters who wish for annexation by Russia.
Officials in both Moscow and Washington leveled accusations against each other about interference in Ukrainian politics and protests. Russia has said that paid armed personnel working with the American firm Greystone were among the pro-Ukrainian forces in east Ukraine. Greystone and its affiliates have denied this. The White House April 7 said that it had evidence of Russia paying some participants in the protests in eastern Ukraine.
More Calls for Secession
April 7, 2014
- Pro-Russian protestors seized a government office in Donetsk and declared themselves the "Republican People's Soviet of Donetsk." Russian supporters in other eastern cities of Ukraine seized buildings and called for a referendum on the issue of joining Russia.
The actions occurred as tensions heightened in Crimea, which March 16 held its own referendum to secede from Ukraine and join Russia. On Sunday, April 3 a Ukrainian naval officer was killed at Novofedorivka, Crimea, in a dormitory housing Ukrainian military personnel during an argument with Russia troops.
Protestors in other eastern Ukrainian cities, such as Kharkhiv and Luhansk, joined with the protesors in Donetsk, not only in seizing government buildings, but also calling for the presence of Russian troops in the eastern regions of Ukraine as peacekeepers. Russia has an estimated 40,000 troops on its frontier with Ukraine, and recent movement of forces there have caused concern among Ukrainian and NATO military planners.
Economic Pressure
Monday, April 7 was a deadline Russia had imposed on Ukraine to pay $2.2 billion in debt for natural gas.
Nonetheless, Ukrainian officials have called for European countries and the United States to ship more natural gas to them. They are examining the possibility of reversing the flow of natural gas in pipelines that normally carry natural gas from Russia to Europe. Gazprom officials questioned the legality of such a move, and some Russian economic officials talked of switching from dollars to euros and rubles for energy transactions.
Military Positioning Because of Ukraine
April 4, 2014
- Defense and military planning continued as Russia and NATO reviewed and revised agreements for basing forces in Eastern Europe near Ukraine.
Russia April 3 signed a law ending discounts it had extended to Ukraine in exchange for a basing Russian ships in Crimean ports on the Black Sea. Russia had terminated those agreements April 2, saying that their annexation of Crimea as Russia territory put the bases under Russian sovereignty.
But Russia had also recalled generals who had been liaisons with NATO as the members of the North Atlantic defense pact moved forward on plans to bolster forces in eastern Europe.
Estonia has agreed to allow more aircraft to be based at its Amari air field, extending the NATO air force presence in the Baltics. Presently, NATO planes are only based in Lithuania.
But eastern European members and associates of NATO are wary of the 40,000 troops that Russia has placed on its frontier with Ukraine. The March 18 annexation of Crimea by Russia heightened concerns that Russia might use its forces to intervene in other areas of Ukraine with large Russian populations.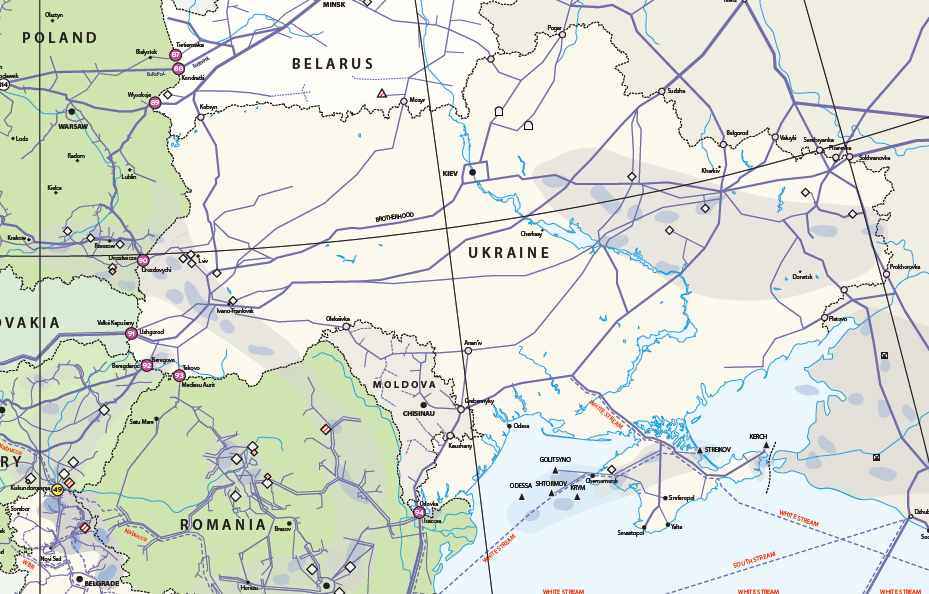 March 24, 2014
- Ukraine set about the task of redefining its energy future in the wake Russia's move to annex Crimea.
Most notably Ukraine took steps to pull itself from the economic sphere of Russia by signing economic agreements with the European Union on March 21. After presidential elections in May, Ukraine would be eligible for fuller economic integration with the EU.
The G-7 industrialized nations met in The Hague March 24 and made clear their refusal to recognize the secession of Crimea from Ukraine and its annexation into Russia. The countries' said they would not include Russia in their discussions until the situation improves.
"We will suspend our participation in the G-8 until Russia changes course and the environment comes back to where the G-8 is able to have a meaningful discussion and will meet again in G-7 format at the same time as planned, in June 2014, in Brussels, to discuss the broad agenda we have together," a communique said.
"In addition, we have decided that G-7 Energy Ministers will meet to discuss ways to strengthen our collective energy security," the communique said.
A report by the Oxford Institute for Energy Studies noted that although there are no natural gas disruptions now or any expected soon, many observers, including the CEO of Russia's gas exporting company, forecast that if Ukraine fails to pay its natural gas debt disruptions could occur.
Crimean Energy Situation
But for the moment, the effective loss of Crimea means Moscow will take control of the 50 billion cubic feet of natural gas produced in Crimea each year.
Reports from Crimea said that electricity from Ukraine was cut in half by mishaps on two transmission lines that cross from the mainland of Ukraine to the peninsula jutting into the Black Sea.
Corruption Investigation
Also, Ukrainian police found 42 kilograms of gold and $4.8 million in cash in the residences of Ukraine's former Energy Minister Eduard Stavytsky. Police were investigating charges of corruption in natural gas trade from Russia, saying the total of the corruption could have cost the Ukrainian nation $4 billion.
Police on Friday, March 21, detained Yevhen Bakulin, chairman of Naftogaz, the Ukrainian state energy company, in connection with the corruption investigation. Naftogaz has a monopoly on importing natural gas from Russia for both sale within Ukraine and transit to Europe.
Russian Takeover of Crimea
The energy remix has been building during this crisis. Russian troops on March 15 descended on a natural gas pumping station in a remote coastal village of Crimea just hours before a referendum called for Crimea's secession from Ukraine. The action underscores the importance of energy supplies to the political struggle that is rapidly unfolding in the region.
The next day, Sunday, March 16, 97 percent of voters in a hastily-arranged referendum on the question of secession approved a call for Crimea to severe ties with Ukraine and join Russia.
The predominantly ethnic Russian electorate voted to rejoin Russia, which controlled the region from the 1700's to 1954. Western governments have said they will not recognize the results of the referendum as legitimate. US President Obama has announced a series of sanctions against Russians in response.
But parallel to the political developments was the seizure of the natural gas terminal near the coastal village of Strilkove, sometimes referred to as Streikov, which showed that Russian forces are prepared to take material and tangible steps on the ground.
Since then the Crimean parliament voted March 17 to nationalize Chornomornaftohaz and Ukrtransgaz, two energy companies in the region.
Crimean Energy Supplies
The natural gas terminal at Strilkove sits on a small sliver of land between marshes in Crimea and the Sea of Azov to the east. (See the map above to the right.) Although the area is isolated, Russia has said that it took the natural gas terminal because it feared Ukraine would turn off gas supplies to Russian-populated eastern parts of Crimea.
Crimea, a semi-arid penisula jutting into the Black Sea with a coast along the Azov, has few resources of its own. It depends on the mainland of Ukraine for its drinking water, natural gas and electricity. Nonetheless, there are offshore oil and gas reserves in the Black Sea that are being exploited to bring the fossil fuels to market.
After the vote natural gas prices rose in New York about 2.5 percent to the $4.50 range. Oil prices fell and stock exchanges rose slightly; traders said that the expected results of the Crimean referendum and the resultant sanctions had already been priced into the market.
Russia Courts Japan on Energy
Even though Japan imposed mild sanctions against Russia, it also hosted the sixth annual Russian-Japanese Investment Forum which started March 19. Forum officials said that 13 agreements and memorandum of intent were signed between the two countries, including one trade deal for Russian grain.
Igor Sechin, head of Russia's state energy company Rosneft, included the Tokyo investment forum on his itinerary of visits to Asian countries. He said that Japan would not only benefit from billions of dollars worth of energy trade with Russia, but that other trading opportunities were present. Japan gets about 10 percent of its natural gas from Russia.
Sechin also said that more integrated investment between Russian and Japanese firms for energy infrastructure, coupled with tighter contracts, would result in less risk for Japanese energy investments.
Yury Lisin, first vice-president of Transneft, Russia's oil pipeline firm, was also at the Sino-Russian investment forum.
The sanctions Japan imposed March 19 involved suspending talks on visa restrictions and on matters of investment, space exploration and military cooperation.
European Countries Call for US Liquified Natural Gas
Prior to the the referendum ambassadors from four Central and European countries sent a letter to the Speaker of the U.S. House of Representatives asking that the United States begin to export liquified natural gas to their countries. In their letter they said recent improvements in their pipelines would allow them to transit the natural gas on the Ukraine, thus reducing all of the countries' reliance on Russian natural gas.
The ambassadors of Poland, Hungary, Slovaki and the Czech Republic (a quartet known as the Visegrad Group) said in their March 7 letter "As events in Ukraine bring back the memories of the Cold War from which all of our countries suffered terribly, we are writing to highlight the overall importance of U.S. engagement in Central and Eastern Europe, and more specifically in the area of energy security and reliable supply of natural gas.
"Despite significant diversification efforts, our dependence on natural gas imports from a single supplier is still anywhere between 70-100% in the region and the gas crises of 2006 and 2009 have shown that the region is more vulnerable to energy security risks than most of the European countries," the letter continued.
"With recent infrastructural investments in Central and Eastern Europe, it became possible to build "reverse gas flows", which have allowed sending gas from Poland and Hungary to Ukraine at a cheaper price than what Ukrainians had to pay. As a result, in 2013 alone, Ukraine imported almost 2 billion cubic meters of natural gas from Poland and Hungary."
The Visegrad letter ended with a call to grant export licenses to American companies wishing to export liquified natural gas to their countries.

---
Ukraine Crisis Update
Click for a Full Timeline
---
Ukraine - Stories, Links and Resources
News from our recommended reading list
about Ukraine
Ukraine
Global Resources News stories
Labor Day, 2014, Gasoline Cheapest in Years
Algeria Re-Elects President to Fourth Term. Energy Sector Growing.
Ukraine-Russia Border Tensions Increase
US: There is Evidence of Russia Firing Into Ukraine
Ukraine's President-Elect Calls for Unity
Ukrainian Energy at Crossroads
Food Data Reveals Ecological Impacts
Ukraine Energy Future Remixed Due to Crisis
The Natural Gas Card in Ukraine
UN Resolution on the MH17 Downing in Ukraine
Ukraine Natural and Economic Resources
Stability, Freedom Status of Oil Suppliers
Table of the Freedom, Stability, Corruption & Peace Status of US Oil Suppliers
Social Media Activity of Global Resources News
Algeria Oil, Gas & Pipelines Channel
Links for the search term: Ukraine
United Nation's page on Maritime Boundaries
The page describes UN conventions regarding the delimitation of sovereign territorial waters, and includes country pages with tables giving the latitudes and longitudes of territorial water boundaries. Ukraine is included.
Ukraine's Energy Balance, from the International Energy Agency
The graphic shows the sources and uses of Ukraine's energy mix, including energy losses from its power generation and other processes. In Ukraine, these losses are roughly equal to the amount of energy Ukraine gets from its Russian natural gas imports.
---
Ukraine Crisis Timeline
2013
Nov 21
Ukraine government said it would not sign EU agreement and would work for closer ties with Russia. Protests against the government begin.
Nov 25
European Council statement about Ukraine withdrawal includes criticism about Russia's efforts to influence Ukraine away from the EU's Eastern Partnership trade agreement.
Nov 26
Ukraine President Viktor Yanukovych tells Ukraine television that the EU has been offering candy in a nice wrapper if they would sign an IMF deal
Nov 28
Eastern Partnership summit begins in Vilnius, Lithuania. European Parliament President Martin Schultz says Yanukovych should listen to his people. Thousands of Ukrainians continue to demonstrate for closer ties to Europe.
Nov 29
Ukraine declines to sign EU Eastern Partnership trade agreement at Vilnius summit ends.
Nov 30
In the early morning hours police chase thousands of protesters from Independence Square in Kiev. But later in the day, thousands more protesters took to the streets throughout Kiev to denounce Yanukovych's refusal to sign the EU agreement.
Dec 01
About 100,000 protesters chased police out of Independence Square in Kiev. Police allowed a peaceful demonstration there, but when some protesters tried to break into a government building with a front-end loader police responded with tear gas.
Dec 11
Police attack barricades of protesters in Kiev's Independence Square.
Dec 15
The EU said it was suspending its attempt to revive the Eastern Partnership deal with Ukraine and at least 200,000 protesters merged on Independence Square.
Dec 15
Journalist Tetyana Chornovol was forced from her car and beaten. Her beating added to a list of violent incidents against protesters and journalists.
Dec 17
Yanukovych visits Putin in Moscow. Russia agrees to buy $15 billion worth of Ukraine government bonds and cut natural gas prices by one-third.
Dec 22
About 100,000 protesters at Independence Square call for the ouster of Yanukovych's government.
Dec 29
Arseny Yatsenyuk, the leader of the opposition Batkivshchyna (Fatherland) party told protesters his party was looking to win the 2015 presidential elections.
2014
Jan 17
Ukraine parliament passes laws aimed at stopping public demostrations.
Jan 19
Large protests turn violent in response to anti-demonstration legislation.
Jan 26
Anti-government protests have spread to other parts of Ukraine, with opposition groups seizing government buildings.
Jan 28
Prime Minister Mykola Azarov and his government resign.
Feb 18
Protesters march on Parliament asking that the country's constitution be restored to the form it held before Yanuikovych took power.
Feb 19
Tatyana Yermakova, leader of pro-Russian group in Crimea, sends appeal to Moscow for protection from demonstrators.
Feb 20
Interior Ministry gives orders to use live ammunition and armed street fighting begins
Feb 21
Russia suspends its economic aid to Ukraine.
Feb 22
Protesters take control of Kiev and Yanukovych flees the city. The parliament votes 328-0 to impeach Yanukovych. Arseny Yatsenyuk named acting prime minister. Yulia Tymoshenko released from prison. Pro-Russian factions in eastern and southern Ukraine hold a congress.
Feb 27
Armed, pro-Russian militants seize the provincial parliament building in Simferopol, Crimea.
Mar 01
Russian troops fly to Crimea.
Mar 01
The Russian Parliament gives Putin authority to deploy Russian troops in the Ukraine. Russian troops are effectively in control of Crimea. OAO Gazprom, Russia's gas exporter, says it will end a discount deal on natural gas unless Ukraine pays a $1.55 billion natural gas bill.
Mar 02
Ukraine calls up its military reserves and acting Yatsenyuk, speaking about Russian troop movements in Crimea, "This is a declaration of war to my country." US Secretary of State John Kerry, who is planning a visit to the region, said that Russia could be expelled from the G-8.
Mar 03
International condemnation of Russia's troops movements in Crimea mounts as the UK foreign secretary William Hague visits Kiev.
Mar 04
US Secretary of State John Kerry visits Kiev and offers $1 billion in loan guarantees to Ukraine along with offers of technical assistance. Russian President Vladimir Putin called the regime change in Ukraine an "unconstitutional coup." He said Russia would reserve the right to use force in Ukraine.
Mar 05
The European Union offered Ukraine a $15 billion (11 billion Euro) in aid over the next two years.
Mar 15
Russia troops take control of a natural gas terminal near the east Crimean village of Strilkove.
Mar 16
Crimean voters in a referendum approve a measure to secede from Ukraine and join Russia. The vote is declared invalid by Western governments.
Mar 18
Russian Vladimir Putin signs a treaty annexing Crimea two days after a referendum in the region called for its succession from Ukraine.
Mar 19
Igor Sechin, head of Russian energy firm Rosneft, turned his attention to Asian markets by visiting a Japanese investment forum while that country imposed mild sanctions for the Crimean action. Sechin called for more integrated energy investment and tighter energy contracts between the two countries.
Mar 20
Ukrainian Energy Minister Yuriy Prodan met with with EU energy commissioner Gunther Oettinger and asked for help from Europe for his country's energy sector. Meanwhile US President Obama added more Russia officials to the list of people under sanctions resulting from the Crimean crisis.
Mar 21
Ukraine signs a trade deal with the European Union that former Ukraine President Viktor Yanukovich had rejected in November. The EU is extending 500 million Euros worth of trade credits to Ukraine now. After presidential elections are held May 25, Ukraine can enter into a free-trade agreement with the EU.
Mar 24
Russian Prime Minister Dmitry Medvedev says that Russia is considering running an electricity transmission line from the Russian mainland to Crimea and building a natural gas electricity generating plant on the peninsula. Reports said that electricity service had beens seriously curtailed due to mishaps in the electric transmission system from mainland Ukraine.
Mar 27
The IMF announced an agreement with Ukraine in which it pledged at least $14 billion of aid to Ukraine. One provision would have Ukraine ending energy subsidies.
Apr 01
Gazprom raised its price of natural gas to Ukraine 44 percent, from $268 per 1,000 cubic meters to $385. Gazprom said it was ending a discount to Ukraine due to unpaid bills for natural gas shipped in the past.
Apr 03
Russia signs law ending discounts granted Ukraine in exchange for a basing Russian ships in Crimean ports on the Black Sea. Russia had terminated those agreements, saying that their annexation of Crimea as Russia territory put the bases under Russian sovereignty.
Apr 07
Pro-Russian protestors seized a government office in Donetsk and declared themselves the "Republican People's Soviet of Donetsk." Russian supporters in other eastern cities of Ukraine seized buildings and called for a referendum on the issue of joining Russia.
Apr 08
Gazprom announces that Ukraine had failed to make a $2.2 billion debt payment on its natural gas at the 20:00 GMT deadline the night before. Gazprom has threatened to curtail gas shipments for non-payment; Ukraine has disputed the April 1 44 percent price increase.
Apr 10
Russian President Vladimir Putin warned European leaders that natural gas shipments to and through Ukraine could be halted if Ukraine does not pay its natural gas debts. Europe receives 15% of its natural gas via Russia exports transited through Ukraine.
Apr 12
Outside Slovyansk, about 150 miles from Russia, a Ukrainian Security Service officer was shot and killed by pro-Russian gunmen who fired upon Ukrainian security forces. Pro-Russian militants had seized the police station within that town.
Apr 15
German energy provider RWE reversed the flow of gas to Ukraine under terms of a 2012. RWE could supply up to 10 billion cubic meters of gas a year based on European wholesale prices plus delivery costs.
Apr 17
In Geneva on Thursday, April 17, Ukraine, Russia, the United States and the UE signed an agreement that: called for an end to fighting; the laying down of arms by insurgents and the surrender of occupied buildings; and amnesty for those protesters. It also designated the OSCE to monitor the agreement.
Apr 22
US Vice President Joe Biden unveils energy assistance package to Ukraine. The US would provide technical assistance to reverse the flow of natural gas from Europe, increase efficiency and increase natural gas consumption in Ukraine.
Apr 24
Russia sent Ukraine an $11 billion bill for natural gas as Ukraine prepared for discussions with the EU. Ukraine and the EU are working to reverse the flow of gas to Ukraine. Russia has invited Ukraine to Moscow for meetings next week.
May 02
Ukraine launches a major assault in its eastern provinces. Two helicopters are shot down. Putin calls it a violation of the April 17 Geneva agreement.
May 11
Separatist groups in Ukraine's eastern provinces stage elections for secession from Ukraine. The elections are considered invalid by the international community and the results are not recognized by the Kiev government.
May 25
Petro Poroshenko wins the presidency of Ukraine with 54 percent of the vote. Turnout is low in the eastern provinces.
Jun 20
The battle occurred overnight near the village of Yampil.
The UN Commissioner for Human Rights issued a report describing the increase in internally displaced persons in Ukraine and the tactics of intimidation and fear used by the fighters. The UN also said 356 people, including 257 civilians, have died in Eastern Ukraine since May 7.
Jun 24
A MI-8 Hinde helicopter carrying technicians near Sloviansk was shot down. Nine people were killed.
Jun 27
The European Union signed the economic partnership with Ukraine that had been rejected in November, initiating riots and a change in government. Georgia and Moldova also signed.
Jul 01
Ukrainian forces ended a 10-day ceasefire, retaking a checkpoint from pro-Russian rebels and fighting for other positions in eastern Ukraine.
Jul 05
Ukrainian forces reestablished control over the eastern city of Slovyansk in Donetsk province. Slovyansk had been a rebel bastion for much of the insurgency in eastern Ukraine.
Jul 17
A passenger jet carrying nearly 300 people was shot down north near the village of Torez, north of Donetsk, in east Ukraine.
Aug 25
About 10 Russian tanks, two armored vehicles and trucks entered Ukraine near the Sea of Azov, Ukraine said.
Aug 25
Russian Mi24 helicopters shot at a Ukrainian border post at Krasnatalovka in the Luhansk region of east Ukraine. Ukraine said four guards were killed and three injured.
Aug 26
Russian and Ukrainian Presidents Vladmir Putin and Petro Poroshenko met in Moscow to discuss the fighting in east Ukraine.
Aug 27
Ukraine said Russia troops entered Ukraine at Amvrosiyivka. Ukraine also issued a warning of a Russian natural gas cut-off to Europe. Russia denied both claims.
Aug 27
Pro-Russian fighters entered and quickly took Novoazovsk in southeastern Ukraine. Ukraine had said Russian troops were in the area.
Aug 30
Russian tanks destroyed the eastern city of Novosvitlivka. The European Union is considering sanctions against Russia.

2015
Apr 05
Four Ukrainian soldiers were killed by gunfire in Schastye near Luhansk and two died from a land mine explosion near Mariupol close to the Black Sea.
Apr 06
Ukraine's President Petro O. Poroshenko told a constitutional reform convention that Ukraine should remain a unitary country. Poroshenko said a more decentralized government might be in order, but Russia's suggestion that the country be 'federalized" stretches too far into a break-up of the East European nation.