Fuel Shortages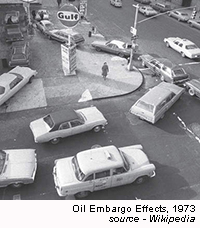 Fuel Shortages
Since the Arab oil embargo of 1973 fuel shortages have been an increasing vulnerability of industrialized society. While they have been nothing new to developing countries, larger economies have had to develop strategies to ensure a steady supply of energy and fuel.
Fuel shortages still occur because of political turmoil, extreme weather events and aging infrastructure.
Fuel shortages have caused conflicts in Myanmar, exacerbated the political turmoil in Egypt, roiled US politics and cause steep increases in price.
Each year billions of dollars are spent to avoid and alleviate the effects of fuel shortages. But they still plague economies, sometimes on a periodic basis and other times chronically.
Below is a timeline of major and recent fuel shortage incidents.
---
Fuel Shortages - Stories, Links and Resources