Keystone XL Channel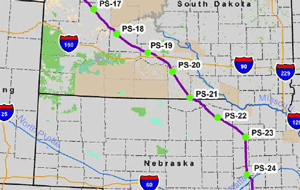 The Keystone XL pipeline extends from the Canadian border with Montana to Steele City Neb. on the border with Oklahoma.
It would carry about 850,000 barrels a day of diluted bitumen derived primarily from the tar sands of Alberta. However, this bitumen would be diluted with a mixture of various chemicals such as diesel and benzene.
The pipeline is being opposed strenuously by landowners along its route, Native American tribes whose reservations are in its paths and people who oppose both the environmental risks of the pipeline itself and the investment in a continued use of fossil fuels. Some also assert that the primary function of the pipeline will be to enable oil companies to used the Great Plains as a transit route to export terminals, which they would use to sell the diluted bitumen to foreign markets rather than to supply the US market.
The pipeline is supported by people who believe that the tar sands provide a source of North American oil in contrast to foreign oil.
---
Keystone XL - Stories, Links and Resources