Libya, Conflict over Oil, Gas and Politics
US Evacuates Embassy in Tripoli
The United States July 26 moved its personnel from the capital city of Tripoli on Libya's western coast to nearby Tunisia. A convoy, protected by 80 US Marines and two F-16s overhead, fled intensified fighting in Tripoli that had crippled the city's international airport.
Rebel Control of Ports
In the first week of July 2014 rebels returned control of two oil ports to the new government of Libya, but later protesters took over a third.
At the beginning of the month the Petroleum Facilities Guard, led by Ibrahim Jadhran, ended a blockade of the oil terminals at Ras Lanuf and Es Sidra. However protesting guards on July 12 took over the oil port of Brega.
The return of the first two oil ports to the new Libyan government resulted in lower oil prices for both the Brent and WTI benchmarks. The reopening of those ports will allow about 500,000 barrels a day to return to world markets.
The Brega port, however, ships oil to a domestic refinery at Zawiya in western Libya. In the past it has been used for exports, and has a capacity of about 90,000 barrels a day.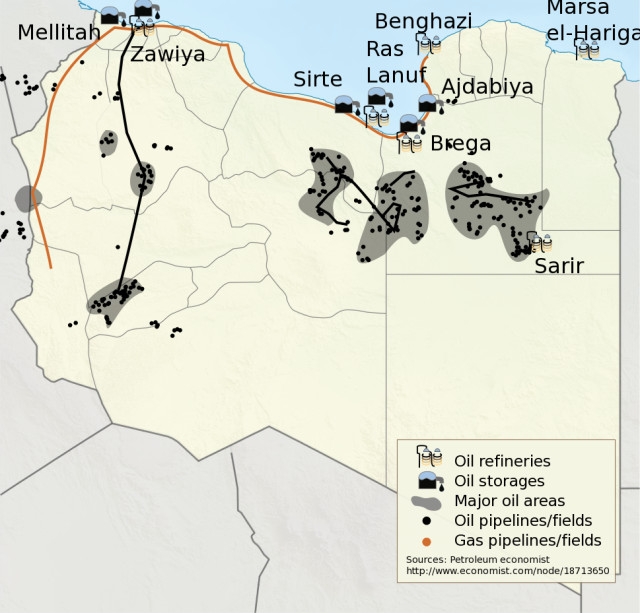 Libya's Mediterranean Ports Ship Oil
Libya has had a long and influential history in oil politics. Col. Moammar Gaddhafi was among the first of the Arab leaders to recognize the strategic importance of oil. After his rise to power in 1969 he used it to bring in wealth from the industrialized nations that had previously colonized his country.
But his repressive regime was among those overturned in the Arab Spring of 2011-2012, and since then sectarian fighting has diminished the production of oil from the country.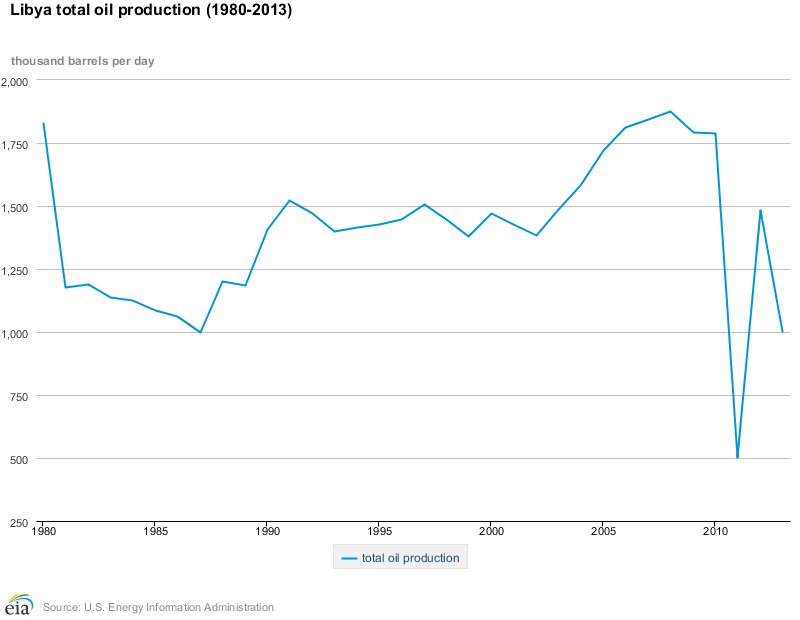 On July 2, 2014 the new government reached an agreement with rebels which had seized two oil-exporting ports. The largest, Sidra, has the capacity to export more than 450,000 barrels per day.
Libya's Oil Production In Flux
Libya's oil production between 2008 and 2010 were about 1.8 million barrels per day. But in 2011, with the revolution that toppled Gaddhafi, production fell to about 500,000 barrels per day.
In 2012 it grew to 1.48 million barrels per day before falling again to 1 million bbd in 2013. Libya's natural gas production followed a similar trajectory, being 593.7 billion cubic feet in 2010, falling to 277.4 BCF after the Arab Spring regime change in 2011 and climbing to 430 BCF in 2012.
---
Libya - Stories, Links and Resources
News from our recommended reading list
about Libya