Pipeline Spills Becoming More Costly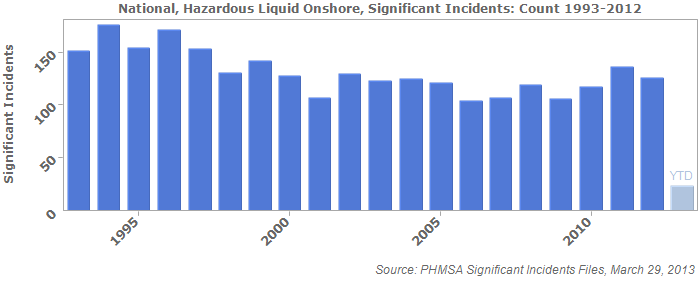 The Pegasus Pipeline spill of March 29 is part of a changing trend of onshore pipeline spills in the United States in which fewer spills occur each year but the value of damage is growing.
An examination of Federal data shows that the number of hazardous liquid spills declined from 152 in 1993 to 126 in 2012. The trend hit a low in 2006 with 104 spills and has been edging back up. (The three-year moving average of spills from 1996 to 2012 fell from 160 to 123.)
However, the dollar value assigned to the damage of the spills has grown significantly, from $39 million in 1993 to $105 million in 2012. (The government reported the figures in 2012 dollars.) The Kalamazoo River spill of 2010 boosted that year's damage above $1 billion. But the year before damage was $61 billion.
---
Pipeline Spills - Stories, Links and Resources
News from our recommended reading list
about Pipeline Spills