Click here for our compiled Tweets
---
Green Jobs Training Still Evolving, Involves Basic Skills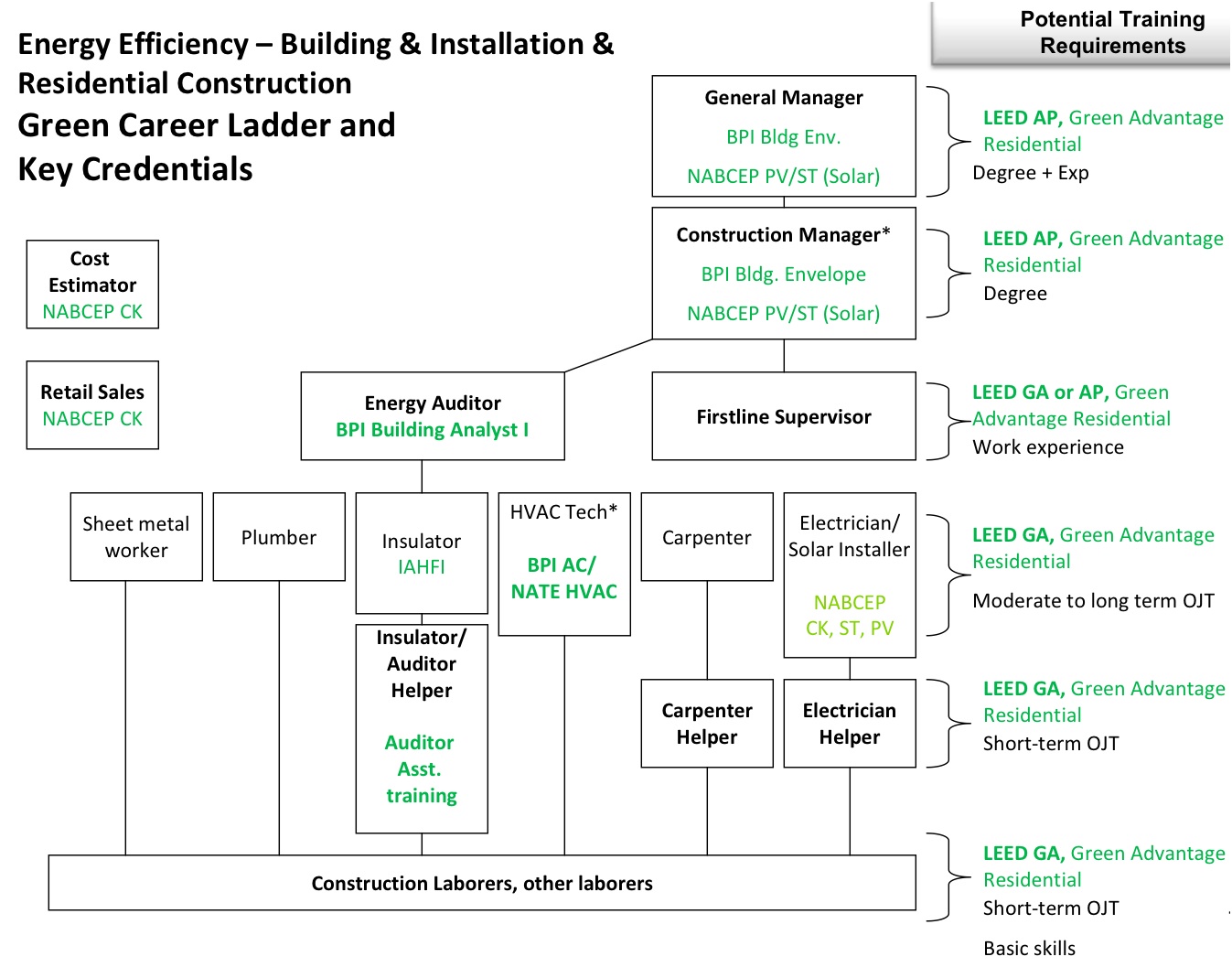 Draft schemata of potential credentials for green jobs.
Source: Rutgers Heldrich Center. Click to enlarge
Classifications for green jobs is still evolving and so is the related training for those positions,
a workforce training researcher said
.
However, trends are emerging that can help employers and job seekers navigate the growing labor needs of environmentally friendly and clean energy jobs, said Jennifer M. Cleary of the the Heldrich Center for Workforce Development at Rutgers University.
First, there is "crowding at the bottom," which means that much of the training for new green jobs are for entry level positions. Career ladders for new jobs are not always clear nor transparent, she said. Thus the green sector can do more to develop training and counseling programs that will help workers advance to higher paying jobs as they develop their careers in the green sector.
Also there are widely varying connections between training programs and the job market. For example, employers sometimes prefer traditional training and skills to "exotic" degrees, such as a new "sustainability" degree. Further, sometimes people will receive certification in weatherization without any experience in construction, diminishing their competitiveness in the labor market.
Also, online training programs recruit aggressively, and potential trainees should research such programs very carefully.
There are some green training certification that are well-recognized in the industry. These include:
---
EPA's Jackson Calls for Investment in Clean Jobs
Addressing the 1,600 attendees of the 2011 Green Jobs, Good Jobs, EPA Administrator Lisa Jackson called on US businesses to take some of the $1.93 trillion they reported hold in cash and invest in new jobs.
She also said that over the life of the Clean Air Act, every $1 spent on compliance had yielded $40 in economic benefits.
Her prepared remarks as posted on the EPA Web site