Marcellus Shale - Facts, Figures, Maps
Hydraulic fracturing
techniques and gas prices well above $3 per million BTUs have made extraction of shale gas economically viable in the past decade.
The Marcellus Shale region, (see map) runs from West Virginia, through Pennsylvania into New York. Pennsylvania has permitted more than 2,500 wells in recent years.
However, these advances have come at an environmental cost. Hydraulic fracturing, or fracking, involves injecting millions of gallons of chemically-treated water deep into the ground. Some chemicals in the water fracture the rock so that small or very small pockets of natural gas will flow to the extraction pipes; other chemicals help separate the gas from the resulting fluids.
Not only must water be trucked to remote locations, it must be disposed of. Some operators have begun recycling the water on site with expensive equipment. Others must truck it away for treatment.
Another major controversy revolves around the potential contamination of ground water, especially that used for drinking supplies. The shale gas lies thousands of feet below the water table, which typically only a few hundred feet.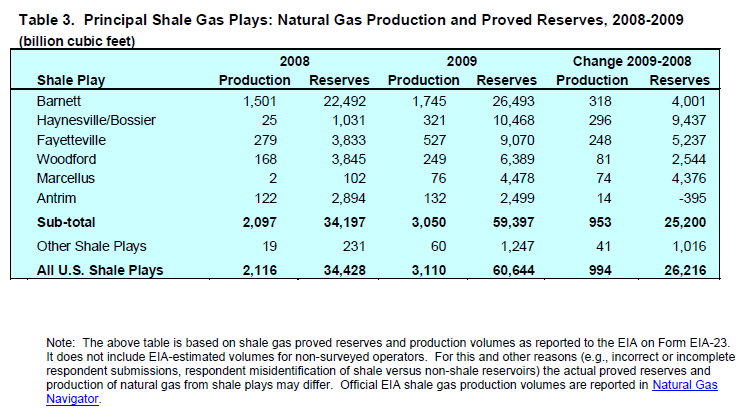 But the pipe must flow through the water table, which causes concern for accidental leakage at that stage.
Overall, the US has 60.6 trillion cubic feet of shale gas. Lawsuits and fines have begun to emerge around the issue.
In 2009, DOE boosted its estimate of proved reserves in the Marcellus region to 4.4 trillion cubic feet from 102 billion cubic feet the year before. (See table) This increase also followed a year which saw natural gas at one point selling at over $10 per thousand cubic feet (it fluctuated above and below $4 at the end of 2010 and the beginning of 2011).
The historically high prices for natural gas with the estimates of vast reserves brought drills into the region. But complaints of water pollution followed and lawsuits are beginning to move through the courts.
Related Links
Reuters Factbox on US Natural Gas and Shale
DOE's U.S. Crude Oil, Natural Gas, and Natural Gas Liquids Reserves
Top 100 Oil and Gas Fields in the US
Cabot Settles with Penn. Dept. of Environment for $4.1 million in Dimock water situation